Jacques Rival, French architect, designer and place maker from the city of Lyon, answers our questions as he is about to expose one of his iconic monumental snow domes, I LOVE ADELAIDE, in front of Goodman Lawns University of Adelaide July 15-31 for Illuminate Adelaide.
Jacques Rival brings his trademark sense of dream and wonder with this mischievous and playful tribute to the city of Adelaide. I LOVE ADELAIDE takes the simplicity of childhood and reimagines it with a monumental takeover of the Goodman Crescent Lawns, of the University of Adelaide. This larger than life snowglobe engulfs the Sir Thomas Elder statue within it, emblazoned with a neon title "I LOVE ADELAIDE". The project is generously supported by the General Consulate of France.
INTERVIEW WITH THE ARTIST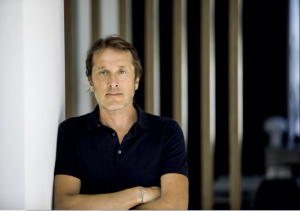 Architect, urbanist, designer, artist: how would you present yourself?
I am an architect by training, and I have at heart to create singular and picturesque installations in public spaces, in order to reconcile my vocation to work in-situ, and the will to create imaginary worlds around these places, so that the installation echoes in its environment. I think that my work oscillates between several fields of creation: urban art, global design, and light scenography.
What inspired you to create the colossal snow globe and why name it "I LOVE ADELAIDE"?
 I like to work on values related to the world of childhood, because I try in each of my creations to transmit wonder and to address a large audience, so that the work is like a poem accessible through various degrees of understanding. I want audiences to feel the wonder and carefree nature of childhood.
I also try to create an aesthetic impact that can, at a street corner, create a "wow effect" to the passer-by, capable of appreciating the work without ulterior motives or prejudice. This work on urban art is my credo, even if the paradox of an artwork inscribed in an urban setting and thus becoming universal, often makes us disappear.
For the project I LOVE, I realized this installation several times. In Lyon, Pau, France and Klaipeda; Lithuania, Durham UK. My original idea was to create a work capable of connecting in the same dynamic, past and present: by staging a historical monument inherited from the past in a quirky scenography such as a tribute to a vernacular monument making it into a "ready made" piece.
What also interested me was to work in a wink to pop-art and the typographic work of Milton Glaser who managed with a simple typographic game to highlight the city of New York, and to create a true emblematic tourist sign of the city, I LOVE NEW YORK.
Moreover, visiting the tourist monument, meant to represent a city, allows the tourist to bring home a part of the history of this city. Often when returning from a trip, one can buy a caricatured and slightly kitsch snow globe, as an object symbolizing the visited city.
Therefore, magnifying this real monument, through the creation of a snow globe and in present time, is the very foundation of the project: to have this memory in real time. The work enables us to visualize a memory, right now!
Thus, the eras stage each other and the contemporary installation, encompassing the historical statue, creates an aesthetic shock. The project is also a wink to the picturesque force that tourism can exert within a city. The universally known snow globe enables a common understanding of the work. Humorous and quirky, it speaks directly to the child inside us.
What message does your artwork convey about the role of artists in urban space and interactions?
In my opinion, it is important that the work echoes in its environment, its history, and I like being able to connect opposing scales of work: intimate objects VS public spaces, in order to create that mentioned shock in the landscape, as well as wonder and surprise.
What made you want to come all the way to Australia, and what does it mean for you to be exposed here?
I am very happy and proud to be exhibiting in Adelaide, I have always dreamed of coming to this continent. Invited by the festival of Adelaide, I am honored that my work is of interest on the other side of the planet. My initial idea was to be able to create a snow globe in many capitals. I wanted to create a snow globe in many capitals, European and worldwide, to make this magic nomadic and to offer the public this souvenir gift of their city.
With such a monumental installation, is there a risk that the artwork overshadows the artist?
Yes, good question. My works have been seen by hundreds of thousands of people in various countries, however most do not know my name.
The public consumes in an immediate way, by photographing the work, and posting it on Instagram, but it does not occur to them that there is an artist, who like every artist wants to be recognized for his work and talent. Here the project is perceived as an event, and we become mere "prompters" for works that exceed us and take the lead. The true attraction of the installation, whose vocation it is, thus eludes the work and the personal artistic approach.
I often take the image of the artist musician who creates a performance: imagine that he plays on stage, with a sheet, drawn up between him and his public. Do you think he would do this job? Maybe it's my training as an architect that makes me accept this counterpart but it's not easy every day! When someone takes a picture of your work and asks you to move because you are in the way, it creates a great deal of frustration and sends you back to all those questions…(laughs)
It is therefore necessary to double the efforts to have visibility; much less easy to obtain, contrary to other fields of creation and performance, where the artist puts himself directly on stage.
MORE INFORMATION
Jacques Rival's website here.
Instagram @jacques.rival
More information about I LOVE ADELAIDE here.
I LOVE ADELAIDE
Jacques Rival
Goodman Lawns University of Adelaide, North Terras
15 – 31 July, 6PM – 11PM