Lissom | Artist of the month for June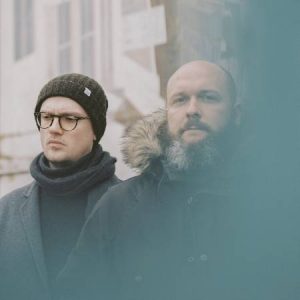 Referenced by Billie Eilish, featured in several TV series on Netflix, Amazon, and the American network CW, and gathering millions of streams every year,
Lissom's debut album took the world by storm…and this year they are back with Éclipses!
Lissom is the collaborative project of French pianist, composer and producer Julien Marchal of SLUMB and the British singer, songwriter and producer Ed Tullett – who is also the singer and co-songwriter of the band Novo Amor.
Forced to be apart, Lissom's efforts to connect, the loneliness and hardships they faced while combining their skills in this new album are reflected in the music through the melancholy notes and serene lyrical insights that imbue Eclipses.
Their eponymous debut album Lissom saw instant success in 2018. Billie Eilish made a reference to it in an interview for VICE, saying Lissom would be the album playing on repeat if she was travelling with her headphones on.
The songs 'Doppelganger', 'Limbo' and 'Mascaron' were featured in the TV shows 'The Republic of Sarah', 'Magnum P.I.' and 'The Blacklist' from 2019 to 2021.
One And The Same

The new album has been met with a flurry of positive reviews just days after its release, the very first review by Benjamin Berton featured in Sun Burns Out magazine:
"The critics can go dress themselves on this one. It's the ear that speaks or at least listens and thinks on our behalf. Eclipses is a remarkable album, an album with wings." 
Lissom continues to attract a growing international audience, with over 300 000 monthly listeners on Spotify; London, Sydney, Melbourne, Los Angeles and Chicago claiming the top five cities with the most Lissom listeners.
Giveaway Competition
Subscribe to the newsletter for a chance to win a copy of the album on CD!
Competition ends 30.06.2022 – 8pm AEST