End of Year French Markets and Festivals
This end of year, there will be plenty of opportunities to immerse yourself in French culture all whilst remaining in the country!
Read on to discover the end of year French markets and festivals happening around the country in November and December.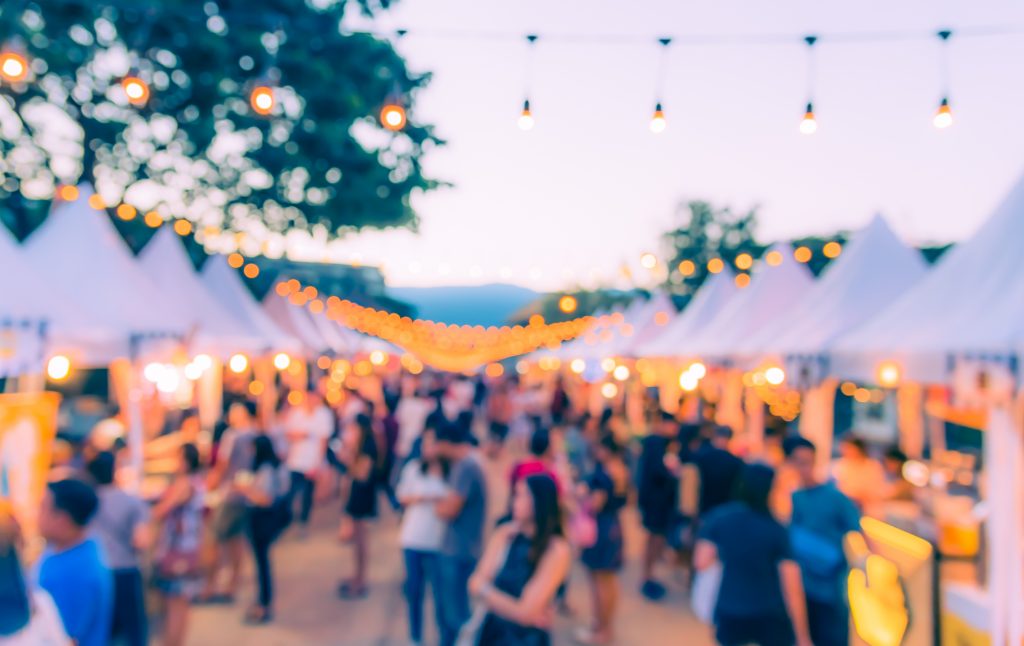 La Grande Fête de Telopea | Saturday 4 November
Location: Telopea Park School, 25 New South Wales Cres, Barton ACT 2600
Organised by Telopea Park School
Go on a trip to France… without leaving Canberra! Telopea Park School's La Grande Fête is one of the largest public school fêtes in the ACT, there's something for everyone including delicious food, carnival rides, the annual Canberra French Car Clubs display, live entertainment, clothing, books and market stalls.
Pre-purchase your Durkins Carnival Rides tickets, $30 for ride-all-day tickets on the Super Cha, Dodgem Cars, Giant Slide, Cup and Saucer, and Disco Show!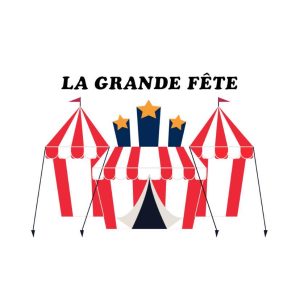 The French Market de Killarney Heights | Sunday 5 November
Location: Killarney Heights Public School, 10 Tralee Ave, Killarney Heights NSW 2087
Organised by FANS –  the French speaking Association of the North Shore & Killarney Heights Public School
From a small local school party attended by the nearby community, to an iconic event welcoming 70 vendors, the French Market is recognised as the French cultural celebration bringing people together from all over Sydney and beyond; this is one of the biggest French cultural highlights in New South Wales. This year will be the 17th edition of the French Market. Head on over to enjoy a piece of France!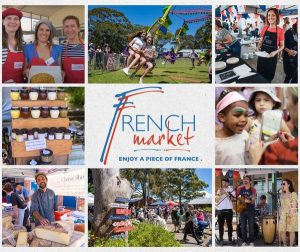 Xmas Market by the AF Melbourne | Friday 1 – Sunday 3 December

Location: Madame Brussels Lane / Spring place, 2 Lonsdale St, Melbourne VIC 3000
Organised by AF Melbourne
Gift hunter, francophiles and market-lovers alike, save the date.
More info to come soon including a program of stalls selling items crafted by French artisans, food and wine & many surprises!
FREE ENTRY

Marché de Noël by the Lycée Condorcet | Sunday 3 December
Location: Lycée Condorcet the International French School of Sydney, 758 Anzac Parade, Maroubra NSW 2035
Organised by le Lycée Condorcet
Craftsmanship, beauty and art de vivre are the epitome of French culture. We're excited to contribute to supporting authentic craftsmanship, gastronomy, traditional food and beverages, and to put local and international unsung heroes of creativity into the spotlight.
Like our school, we aim to make our marché de Noël something above and beyond a regular Christmas market. For us, it is a joyous and convivial event welcoming Sydney market-goers to experience the very best of French culture, style and cuisine, as well as local and international talent, right here in the sunny eastern suburbs.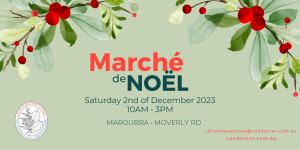 La Guinguette: the Alliance Française Summer Garden Fest Opening | Saturday 2 December
Location: Village Green, Unley Oxford Terrace & Rugby Street
Organised by l'Alliance Française d'Adélaïde
Fun for the whole family, we are bringing the open air sensation taking over French summers, right here to Adelaide. Celebrate summer with us on a special day filled with food, drinks, live entertainment and activities for children and adults, specially crafted by our team at the Alliance Française. Come along for a community celebration in the sun à la française!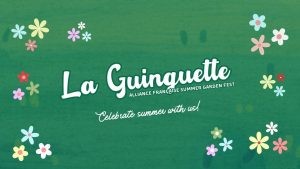 Sacreblue! x SBS
The October Selection
Every month, Sacreblue! highlights some francophone films from the SBS catalogue.
These movies will be available for the whole month for free on SBS On Demand.
Here is our October selection, enjoy a selection of French thriller and horror films for a special francophone spooky season!

Titane (2021)
Director: Julia Ducournau

Cast: Vincent Lindon, Agathe Rousselle, Garance Marillier, Laïs Salameh, Bertrand Bonello, Dominique Frot, Mara Cisse, Marin Judas, Diong-Kéba Tacu, Myriem Akeddiou, Céline Carrère

A woman with a titanium plate fitted in her head and murderous intent on her mind embarks on a bizarre journey of identity and unconditional love when she's forced to go on the run.
Called "the most shocking film of 2021"  by  BBC's Nicholas Barber in his review for Variety magazine, Titane had its world premiere at the 2021 Cannes Film Festival and received the Palme d'Or, the festival's top award. Ducournau is the second female director to win the award after Jane Campion in 1993 for The Piano. The film also screened in New York, London and Toronto and won the People's Choice Award for Midnight Madness at the Toronto Film Festival.
Watch it on SBS on Demand here.
Evolution (2015)

Director: Lucile Hadzihalilovic
Cast: Max Brebant, Roxane Duran, Julie-Marie Parmentier, Mathieu Goldfeld, Nissim Renard, Pablo-Noé Etienne, Nathalie Legosle, Chantal Aimée
Nicholas is a sickly young boy living on an island populated solely by women and other boys. The boys undergo strange medical procedures and Nicholas suspects that he is being lied to and sets out, with help from a young nurse, to discover what the women secretly do at night…
Winner of the Best Cinematography award at both the San Sebastián and Stockholm International Film Festivals, Evolution has been described by the Hollywood Reporter as "A trippy visual feast and a mesmerizing experience."
Watch it on SBS on Demand here.
Climax (2018)
Director: Gaspar Noé
Cast: Sofia Boutella, Romain Guillermic, Souheila Yacoub, Kiddy Smile, Claude Gajan Maull, Giselle Palmer, Taylor Kastle, Thea Carla Schott

In the winter of 1996, a professional French dance troupe, led by manager Emmanuelle and choreographer Selva, gathers in a rural, abandoned school to rehearse an upcoming performance. After succeeding in completing the elaborate closing piece of the dance, the group commence a celebratory after-party. Mysterious seemingly drug-laced alcohol causes their jubilant rehearsal to descend into a dark and explosive nightmare as they try to survive the night before it's too late.
The film premiered at the 2018 Cannes Film Festival, screening in the Directors' Fortnight section where it won the Art Cinema Award.
Watch it on SBS on Demand here.
New Release:
The Goldman Case / Le Procès Goldman
In 1975 is held the trial of Pierre Goldman, a fiery and controversial figure of revolutionary left-wing activism. Goldman is guilty of numerous charges, yet he proclaims his innocence in a double murder accusation. Twenty years before the OJ Simpson case, the Goldman trial reflects the political, ideological and racial tensions that marked the 1970s in France and Europe.
Then considered to be the trial of the century, it divided an entire country and widened the gap between the conservative right and left-wing intellectuals.

Directed by Cédric Khan, the film stars Arieh Worthalter, Arthur Harari, Nicolas Briançon and Stéphan Guérin-Tillié.
Selected as part of the 2023 Cannes Film Festival Directors' Fortnight, the film has thus far received a rare 100% rating on Rotten Tomatoes.
Access the full press release kit here
Watch the trailer:
Sacreblue! x SBS
The September Selection
Every month, Sacreblue! highlights some francophone films from the SBS catalogue.
These movies will be available for the whole month for free on SBS On Demand!
Here is our September selection, enjoy these adventure-filled tales to put a pep into your step as we head into Spring.

Twist à Bamako / Mali Twist (2021)
Director: Robert Guédiguian

Cast: Stéphane Bak, Alice Da Luz, Saabo Balde, Bakary Diombera, Ahmed Dramé, Diouc Koma, Miveck Packa, Issaka Sawadogo, Youssouf Djaoro, Abdoulaye Diakhaté

Mali Twist is a historical drama set in 1962 Mali, shortly after the proclamation of the country's independence. The film centres around the unlikely love story of Samba, a yound socialist revolutionary, and Lara who has just escaped a forced marriage, as they navigate the political turmoil of a changing society.
The film featured in the Valladolid International Film Week and at the 2022 Alliance Française French Film Festival.
Watch it on SBS on Demand here.
Police / Night Shift (2020)
Cast: Virginie Efira, Omar Sy, Grégory Gadebois, Peyman Moaadi, Elisa Lasowski, Emmanuel Barrouyer, Anne-Pascale Clairembourg, Anne-Gaëlle Jourdain, Cécile Rebboah, Cédric Vieira, Thierry Levaret, Aurore Broutin, Tadrina Hocking, Gwenaël Clause, Damien Abysique

Adaptated from the 2016 novel Police by Hugo Boris, three Parisian police officers are tasked with escorting an illegal immigrant from Tajikistan who is subject to deportation from France. The officers face an ethical dilemma when they are confronted with the reality that their prisoner will likely be killed upon return to his home country.
The film had its world premiere at the 70th Berlin International Film Festival in February 2020.
Watch it on SBS on Demand here.
The Big Blue / Le Grand Bleu (1988)
Cast: Rosanna Arquette, Jean-Marc Barr, Jean Reno, Paul Shenar, Griffin Dunne, Sergio Castellitto, Marc Duret, Jean Bouise

The Big Blue is a fictionalised story exploring the friendship and sporting rivalry between two leading contemporary champion free-divers in the 20th-century; Jacques Mayol and Enzoe Maiorca and Mayol's straiend relationship with his girlfriend, caught between his yearning for the deep and his love for her.
The film became one of France's most commercially successful films, it has been described by film historian Rémi Lanzoni as "one of the most significant cult movies of the 1980s" and as creating a "Big Blue generation".
The Big Blue was nominated for several César awards and won the César awards for Best Music Written for a Film (Éric Serra) and Best Sound in 1989. The film also won France's National Academy of Cinema's Academy Award in 1989.
Watch it on SBS on Demand here.
In February 2022, Culture Plus, in partnership with the Embassy of France in Australia, the Alliance Française de Sydney and the Art Gallery of NSW, organised the first eloquence contest at the Art Gallery of NSW as a way to reinforce cultural exchanges between France and Australia. This year, the contest is back, tackling the theme of art and the environment.
Cultureplus is a non-profit company organising talks, events and weekend getaways to immerse yourself in Art, History, and French & Australian Culture.
The concept behind the Eloquence art prize is to reward the best 15-minute art talk given by a university student from one of the top five Australian Universities, in front of a jury composed of leading Australian arts professionals. Art students have been selected through a three stage process and each university champions will participate in the Grand Final. The Grand Final will provide some of the most engaging art talks in he country.
The Art Prize seeks to reward excellence in art history and provide unforgettable career opportunities to participants. Prizes vary from one year to another but can include entry into a summer program at the Ecole du Louvre in Paris, including payment of flights and accomodation, mentoring sessions and french lessons with Alliances Francaises Australia.
—
Prior to the prize ceremony this year, a documentary screening and panel discussion evening will take place on the 27th of September at the Kambri Theatre, ANU.
The event will feature the screening of award-winning  2021 French fim Once You Know, followed by the world première of a  short 10′ film on its Golden Plan wind farm project. The film is an Australian "world premiere", produced by students from the Academy of Film, Theatre and Television.
Following these thought-provoking films, stay for a panel discussion featuring the following speakers:
Joe Harber, Director, Head of Wind Investments at the Clean Energy Finance Corporation (CEFC), a governmental organisation that finances renewable energy projects (but not only).
Rob Gordon, outgoing CEO of Sunrice, Board Director of Inghams and member of Inghams sustainability committee, who will bring the point of view of an  Australian corporate company
Fiona Veikkanen, Executive Director, Canberra Environment Centre, an organisation that promotes pragmatic everyday actions for every one.
Virginia Rigney, Head curator at Canberra Museum And Gallery, in  conversation with Alex Boynes, artist and curator at Canberra Contemporary Space and also moderator for the evening.
From Paris to Brisbane: Micro-Folie
A Window to the French Masterpieces in Australia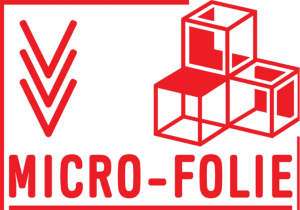 Launching on Thursday, 27 July 2023, the Micro-Folie initiative will debut at the Cube, nestled within the scenic Gardens Point Campus of the Queensland University of Technology in Brisbane. This groundbreaking project, supported by the French Embassy in Australia, seeks to bring the enchantment of art and culture to the Australian audience.
At its core, Micro-Folie is a testament to the potential of technology and its ability to democratize culture. This Virtual Museum serves as a gateway to the art world, offering communities unparalleled access through digital technology. By combining virtual reality and digital devices, Micro-Folie creates an engaging and interactive environment, providing visitors with a unique and immersive encounter with art.
A pivotal aspect of the Micro-Folie project lies in its collaboration with 12 founding national cultural establishments offering access to their collections : Centre Pompidou, Château de Versailles, Cité de la musique – Philharmonie de Paris, Avignon Festival, Institut du monde arabe, Louvre Museum, Picasso Museum, Musée d'Orsay, Musée du Quai Branly – Jacques-Chirac, Opéra de Paris, Réunion des musées nationaux et du Grand Palais des Champs-Élysées, Universcience and Parc de La Villette. These partnerships ensure that Micro-Folie visitors can explore and appreciate masterpieces from renowned cultural institutions, fostering a sense of inclusivity and cultural exchange. With over 40,000 works at its disposal, the Micro-Folie offers visitors a remarkable journey through art and history, spanning from the ancient world to the conquest of space. It serves as a captivating gateway to explore the diverse realms of human creativity and imagination.
The first Micro-Folie opened its doors in France in January 2017, marking the beginning of a remarkable journey that would soon revolutionize how communities engage with art and culture. Spearheaded by Didier Fusilier, President of the Parc et de la Grande Halle de La Villette, in collaboration with the French Ministry of Culture, the Micro-Folie concept rapidly gained global recognition. It was born out of the French Ministry of Culture's commitment to making culture accessible to all. Recognizing the challenges faced by individuals who are unable to physically visit museums, whether due to distance, disability, or financial constraints, the Micro-Folie offers a unique solution: a digital museum that brings together premium content from leading museums worldwide, offering visitors an immersive cultural experience that showcases the best of French and European art and heritage. With over 200 installations worldwide, including in countries like Burma, China, Egypt, Peru, and Turkey, Micro-Folie has become synonymous with accessible and immersive cultural experiences.
The Micro-Folie initiative has resonated particularly well with Australian audiences. Linguistically adapted to accommodate visitors from various backgrounds, the digital content is often available in multiple languages, such as French, English, Arabic, and more. This approach guarantees accessibility for all, bridging cultural gaps and allowing Australians to revel in French art and heritage. The Embassy and Micro-Folie teams collaborate closely with Australian cultural establishments to develop content tailored to Australia's unique culture. This joint effort enriches exhibitions, offering visitors a deeper understanding of the Australian and Pacific region's heritage and distinct cultural characteristics. By intertwining the rich tapestry of French and Australian culture, Micro-Folie fosters cross-cultural appreciation, celebration, and understanding.
The Micro-Folie at QUT promises to become a cultural hub, igniting passions and fostering a deeper appreciation for art within the local community, and as the project continues to thrive and expand its global footprint, it exemplifies the boundless potential of technology in shaping cultural experiences. With each installation, this technological and cultural marvel brings the world closer, celebrating the beauty and diversity of human creativity.
So, whether you are an art aficionado, a technology enthusiast, or simply a curious soul, prepare to embark on a mesmerizing journey at the Micro-Folie – an experience where art, technology, and community seamlessly intertwine.
Raising bilingual kids…when you're not a native speaker of the other language.
I grew up in Australia in an English-speaking family, and I've only spoken French to my 2 young kids, all the time, every day, since they were born. This may seem like a strange thing to do. I don't have French parents or grandparents, and I only started learning French when I was 12 years old in high school. I didn't grow up learning French games, songs, culture, history or geography. Yet together with my husband I'm creating this life for my kids, to help them be fully bilingual. What began as a bit of an experiment has developed into a life-long process that affects many of our choices as a family. I believe it's possible to introduce and maintain a foreign language to your kids if you have the right strategies and support in place.
Why speak a language to your kids when it isn't your mother tongue? Why do we as parents do a lot of things for our kids? To help them grow and mature into young people with opportunities in life.
My Australian husband and I decided to raise our kids as bilingual with French and English always being spoken in our home. He only speaks English with them, and I only speak French. When I was pregnant with our first son 11 years ago, we discussed the idea of speaking 2 languages in our family. We both thought it would be a great gift for our kids. I'm a French-English translator, and I studied French at high school and university, then lived in France for a year. I've been teaching French to adults since 2009, and I'm also a teacher of EFL, so I have a lot of experience in language learning and teaching. My husband, by his own admission, did pretty badly at high school French – like most teenagers he didn't see the point in learning it.
As a teacher, I know how hard language learning is for adults. As a mother, I've experienced first-hand the wonder of little kids easily learning 2 sets of vocabulary and grammar and not even questioning it. It's easier for kids, so for us it made sense to give it a go.
Isn't it weird to speak with your child in your non-native language?
It is definitely a bit strange at first, speaking with your child in a language that's not your mother tongue. It's called mother tongue for a reason – it's the language you know by heart because you learnt to talk in this language, and your whole world is shaped around it. Learning to speak a language is not just about learning the grammar rules and pronunciation – there's also the cultural aspect of a language and its speakers. I had to learn things like French lullabies or popular slang for baby and kids vocabulary as my children grew.
Using emotional language, like when you're angry or upset, is a lot harder when it's not your mother tongue. I sometimes mix up verbs when I'm telling my kids off, and of course they like to point these mistakes out to me!
So how do you actually start?
THE METHOD – My husband and I researched bilingual methods before our son was born. We decided to follow the OPOL method – One Person One Language. There are other ways of raising bilingual kids, some people like to use one language exclusively at home, and the other language when they go out. We thought the OPOL method would work best for us and would cause the least confusion for our child in terms of learning to speak simultaneously in 2 languages. I think it's important for parents to discuss the method before they start, and to agree on how they will do the language learning aspect of child raising.
WIDER FAMILY & FRIENDS – Our kids' grandparents only speak English, and they are all very involved in our kids' lives. This made for a slightly uncomfortable situation at first, as I was pretty much excluding them from conversations with my baby. When the boys were very young and not yet verbal, I sometimes used to repeat myself in English to explain to the grandparents what I'd just said in French. If it was important to the conversation and situation, like what time my baby needed to be put down for a nap as I was going out, then of course I used English with my parents or in laws. But I would always say it first in French to my son.
It also felt a bit weird around my friends who didn't speak French, when we hung out as new mums with our babies, and I spoke French to my baby. But they all understood why I was doing this, and again if the information was important and concerned them then I would say it in English as well.
Over time – my eldest is 11 years old now – I've become much less self-conscious about speaking a foreign language in front of people who can't understand it. I think it also depends on the community you live in, as there are some very multicultural places where it's quite normal to hear various languages being spoken – and then there are some very monocultural places too. If you're in one of these places then you will stand out more, when speaking a foreign language to your kids.
YOUR PARTNER – I've talked to people who speak a second language but haven't passed it on to their kids because their partner doesn't understand the language. I think this is unfortunate, but I understand how it could create friction in a family. My husband now has a fairly good level of French, which is a big advantage for our family, as he knows what the kids and I are talking about and so doesn't feel excluded from the family conversations in French.
5 things that worked for our family, especially when our kids were young:
Be consistent! This was some of the most helpful advice that I read when researching how to raise bilingual kids. It's hard to consistently speak in one language with your child, especially when the language you're using is not your first language. It wasn't natural for me to speak French to my son when he was younger. It felt strange, although over time it became less so, to the point that 11 years later I would now feel awkward speaking English to my kids. Being consistent means you will reinforce the language to your child as they develop their language skills and learn common words and phrases.
Don't acknowledge your child when they speak the other language to you. I know, this sounds really harsh! Ignoring your child when they are just telling you something using the other language? Note here that it's not the 'wrong' language, and I never used those kind of words to describe English. My husband and I have always reinforced it as 'French is what you use to talk with mum and English is what you use to talk with dad.' When my son was really young and just learning to repeat sounds and words, I would teach him the words in French, while at the same time my husband would give him the English word. Now, it wasn't always the case that my husband was with us in the room, as I was the primary care giver and he worked a full time job away from the home. So it was natural that our son picked up more French than English in his early childhood, given he spent most of his time during the week with me, his French speaking mum. His English language skills didn't suffer as he still had time over the weekend with his dad, and he also spent regular time at my parents' house from the age of 18 months to 3.5 years. When I talk about not acknowledging your child in a certain language, the way it worked in our house was that if my son (and I use him as the example because he's the first born) asked me something in English, I would reply in French and re-phrase what he had just said and then give him the words he needed to reply to me in French. Kids learn pretty quickly; they have younger, more efficient brain cells than adults, so they also retain new language.
Make the most of all the resources available to you. We are so lucky to live in the internet age – I can't even imagine how I would have attempted this bilingual experiment if there was no YouTube and online translation tools. I introduced my kids to French 'comptines' (nursery rhymes and songs) when they were a few months old. I found a great playlist on YouTube and we listened to these songs on repeat. When my eldest son was 1, I bought an annual French kids books subscription, delivered to my house each month. Living in Australia, it's not easy to buy foreign language books, so you will have to pay a bit more for delivery than say someone living in the US or Europe. Finally, find their favourite TV shows in their second language. When my boys were younger and had a regular quiet time after lunch, they got to watch Netflix. I made sure it was a show that had French available as a dubbed language, so the deal was the boys could watch TV but it had to be in French.
Join a language-specific playgroup with other parents who speak your foreign language. When my eldest son was 13 months old, we joined a Francophone playgroup. For the first year or so this weekly group was more helpful for me as it meant I could have French conversations with other adults. We were living in Perth, Western Australia, at the time, and while there is a small Francophone community it's not easy to just find French speakers to hang out with! By joining this group, my son heard other French speakers so had more exposure to different accents, and we both added to our repertoire of 'comptines'. And there was an extensive 'bibliothèque', a library of French books that members could borrow. This was my lifesaver as the local public library had few, if any, kids books in French.
Find a French preschool and/or a bilingual program at a primary school. This is obviously easier if you live in a capital city, and more of a challenge if you're in regional areas. Our eldest son attended a 'maternelle' (French preschool) from the age of 2.5, and now both our boys go to a bilingual public school where part of the curriculum is taught in French.
For more from Cathlin and to get in contact head to her webiste or connect on LinkedIn.
https://barrettlanguageservices.com/
https://www.linkedin.com/in/cathlin-barrett-0444a9228/
Céleste Boursier-Mougenot: after the MoMA, the QAGOMA and the NGV, a new permanent installation at 101 Collins Street in Melbourne!
On the 13th of July 2023 from 4pm to 6pm, the Australian public will have the opportunity to experience the work of internationally acclaimed French artist Céleste Boursier-Mougenot as a permanent installation opens at 101 Collins Street, one of Melbourne's most prestigious office towers. Meet the artist in an exclusive Screening and Q&A on July 11th at NGV International.
The installation commissioned for 101 Collins Street is part of a series of seven new artworks, aiming to enhance the cultural landscape of the building. Located in the grand foyer spaces of 101 Collins Street, which recently underwent a significant refurbishment led by Batessmart architects, Boursier-Mougenot's artwork will be one of the most significant pieces in this project, adding a dynamic and engaging element to the newly revitalised interiors. It will feature a series of kinetic sculptures strategically placed to incorporate movement and sound, responding to the environment and the presence of viewers, creating an interactive and dynamic experience. Complementing the kinetic sculptures, video projections will be displayed on designated walls within the foyer spaces. These projections will be synchronised with the movements of the sculptures, further enhancing the immersive nature of the installation.
Céleste Boursier-Mougenot is a renowned contemporary artist who has captivated audiences worldwide with his innovative and immersive installations that blur the boundaries between art, music, and everyday objects. Born in 1961 in France, Boursier-Mougenot has consistently pushed the limits of artistic expression, creating captivating environments that engage the senses and invite viewers to experience art in unexpected ways. His ability to merge art, music, and everyday objects has made him a pioneering figure in contemporary art. Through his groundbreaking work, Boursier-Mougenot has inspired future generations of artists to explore new avenues of creativity and to appreciate the beauty and harmonies found within the ordinary.
One of his most celebrated works, "From Here to Ear," premiered at the 2009 Venice Biennale and garnered international acclaim. In this installation, finches moved freely around the space, perching on guitars, and plucking the strings with their beaks, creating a one-of-a-kind musical composition. Boursier-Mougenot's work has been exhibited in prestigious venues worldwide, including the Museum of Modern Art (MoMA) in New York, the Barbican Centre in London, and the Palais de Tokyo in Paris. The artist has also previously showcased innovative installations such as "From Here to Ear", "Clinamen" and "Présences" in Australia, captivating audiences with his unique artistic vision, leaving a lasting impression in the Long Gallery in Hobart (2009), the National Gallery of Victoria (NGV) in Melbourne (2013), and the Queensland Art Gallery Gallery of Modern Art (QAGOMA) in Brisbane (2010, 2016).
The permanent nature of this installation at 101 Collins Street provides an exciting opportunity for Australians to engage with Céleste Boursier-Mougenot's work and for his art to become a permanent part of Melbourne's cultural landscape. This collaboration marks a significant addition to Melbourne's vibrant arts scene.
Do not miss the chance to celebrate the third and final stage of the Ground Floor Evolution of the 101 Collins St and to witness the installations' unveiling on Thursday, 13th July.
To secure a place at the exclusive Screening and Q&A with the artist on July 11 click here !
Pritzker Prize Winners Anne Lacaton
and Jean-Philippe Vassal exhibit in Sydney
The University of Sydney School of Architecture, Design, and Planning is set to host an extraordinary exhibition that delves into the transformative power of quality housing and its impact on urban environments. Renowned architects Anne Lacaton and Jean-Philippe Vassal, recipients of the prestigious 2021 Pritzker Architecture Prize, will present their extensive research, teaching, and architectural projects in a captivating showcase entitled Lacaton & Vassal: Living in the City.  Spanning from July 27 to September 23, 2023, this exhibition marks the culmination of three years of collaborative work as inaugural Rothwell co-chairs at the University of Sydney. It highlights Lacaton and Vassal's commitment to exploring the role of architecture in creating livable and inclusive urban spaces.
The establishment of the Garry and Susan Rothwell Chair in Architectural Design Leadership, made possible through a generous gift from alumni Garry and Susan Rothwell, has provided the foundation for Lacaton and Vassal's research and teaching at the University of Sydney. The Chair's purpose is to explore the capacity of architecture and urbanism to enhance people's quality of life, perfectly aligning with the focus of the exhibition.
The focus of the 2021 Rothwell Studio centered on the Sirius apartments in Sydney, as students meticulously assessed strategies employed in other notable works for their potential application within a contemporary Sydney context.  Continuing the series, the second studio in July 2022 delved into the realm of social and affordable housing in present-day Sydney. Building upon the findings and discussions from the 2021 Rothwell Studio and Symposium, students undertook a comprehensive documentation of the Waterloo Housing Estate nestled in the heart of south-central Sydney. This endeavor tackled multifaceted issues encompassing social housing, Indigenous rights, colonial history, urban planning, and market interests. An enlightened approach guided their actions, ensuring that no existing buildings, trees, or elements cherished by the inhabitants were to be disturbed, adhering to an ecologically responsible ethos. Finally, in April 2023, the third and final studio unfolded in the captivating city of Paris. Here, a talented group of 20 Masters students embarked on an intellectual exploration of key architectural marvels and captivating artists' installations in and around Paris. Their purpose was to delve deeply into critical research and meticulous documentation, all with the aim of embracing architectural and urban ambitions that resonated harmoniously with the visionary principles championed by Lacaton and Vassal.
Their exploration of contemporary urban conditions of living in the city has resulted in a wealth of knowledge and insights that will be shared with the public. Central to this transformative exhibition is the duo's philosophy, which places a strong emphasis on close attention, transformation rather than demolition, and the provision of high-quality living spaces for everyone as a critical priority. Through architectural models, documentary films, and studio investigations, visitors will gain a profound understanding of Lacaton and Vassal's methodology and their efforts to improve living conditions in urban areas, as the exhibition underscores their belief that access to dignified and well-designed housing is a fundamental right.  Curated by Anne Lacaton, Jean-Philippe Vassal, Hannes Frykholm, and Catherine Lassen, the exhibition also features exemplary social and affordable housing designs by international and Australian architectural firms and researchers. It serves as a platform to highlight innovative approaches to housing, fostering a dialogue around collaborative efforts in creating sustainable and inclusive communities.
Lacaton & Vassal: Living in the City promises to be an inspiring and thought-provoking experience that challenges conventional notions of housing and urbanism.  Don't miss this exceptional opportunity to witness the innovative ideas and transformative projects of Anne Lacaton and Jean-Philippe Vassal.
To know more about Anne Lacaton and Jean-Philippe Vassal's work head to their website.
Navigating "Art de la Table" with Camille Drozdz
Ep. 46 – Navigating "Art de la Table" with Camille Drozdz
In 2010, the French gastronomic meal was protected as a part of UNESCO's intangible cultural heritage – and the food was only part of the package. To discuss some of the other elements so entwined in this bastion of Frenchness is Camille Drozdz, the product designer and ceramicist behind Ici l'Atelier and a co-host of TERRE/MER terroir-based retreats in the South of France. She's here to discuss a phrase closely linked to that oh-so-French passion for food – but rather than talk about what's in the dishes, she's interested in the dishes themselves.
Art de la table.