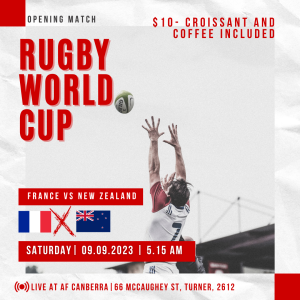 Paul Taylor – BISOUBYE X in Australia!
About his show
Salut, hi!
Je m'appelle Paul, je suis Anglais et j'habite en France. J'ai fait deux spectacles bilingues intitulés "#FRANGLAIS" et "So British ou presque". They both went really well, so I'm doing a third show ! Jamais deux sans trois, right ? À part les enfants. Dans ce cas là, un seul suffit ! One and done.
It's called "Bisoubye x" and as the name suggests, the show is about having to say goodbye to a certain number of things in my life to be able to move on to the next chapter.
Si t'as déjà vu mes deux premiers spectacles et toutes mes vidéos sur les réseaux, ne t'inquiète pas, ce sont des nouvelles blagues (oui oui, il y en a qui bossent !)
Le concept reste donc pareil. Il y aura des blagues en français and there'll be jokes in English. It's a live show so there are no subtitles, donc ramène ta pinte et ton dictionnaire !
About Paul Taylor
Paul Taylor is a british comedian who lives in France. He grew up in Switzerland and France, allowing him to notice and joke about differences between british and francophone culture.
Paul gained initial success for his comedy video on "la bise" which, due to its success, gained him entry into the world of television with the regular short programs "What the Fuck France", "What's Up France" and "Steteotrip", the latter of which explores clichés and stereotypes accross europe.
Despite success on television, he primarily defines himself as a stand-up comedian, his shows include "#Franglais", "So British (ou presque)" and of course, the upcoming "Bisoubye x".
Get a taste of his humour by watching the "#Franglais" show:
Night of Ideas – (Re)building together: A fair(er) society 
Join us to discuss how we can build a truly fair world. Hear from more than 20 speakers – from athletes to social justice advocates, performers and academics –
as they consider some of the biggest challenges we face today and share their knowledge.
Presented in partnership with the Embassy of France and Alliance Française thanks to the Institut français
 
5.30 PM: Speeches & performance
 
5.40 PM: A Brief History of Inequalities
 
MC Katherine Daniell
Panel 1: Never ceded
John Paul Janke, Deputy Chair, Indigenous Reference Group, NMA
TBC
 
Panel 2: Social bias and invisible women
Deborah Hart, National Gallery of Australia, co-curator of Know My Name exhibition
Tanya Spisbah, Office for Women, Department of the Prime Minister and Cabinet
Emilie Dotte-Sarraut, The University of Western Australia, working on Finding the Women in the History of Pacific Archaeology
 
6.30 PM: One for All: Social and Environmental Fights
 
Panel 1: Accounting for social and economic inequalities
Alain Supiot, Professor Emeritus at the College de France, specialised in labour law and legal theory
Arnagretta Hunter, Physician and cardiologist
Emily C., from the United Nations High Commissioner for Refugees in Canberra
 
Panel 2: Planet of the Humans?
Rebecca Pearse, The Australian National University's School of Sociology and the Fenner School of Environment and Society
Kirsten Wehner, fellow at National Museum of Australia
janet laurence, Sydney-based artist
Danielle Celermajer, Deputy Director, Sydney Environmental Institute
7.15 PM / 8 PM: Catering & drinks
Performance by opera singer Lily Ward.
8.00 PM: Rebuilding together a Fairer Society
Panel 1: Dismantling elite power
Kerry Gardner, documentary film maker, philanthropy and non-profit leadership
Joanna Lindner-Pradela, International Women's Development Agency (IWDA)
Dennis Altman, Vice Chancellor's Fellow at LaTrobe University in Melbourne, author of God Save the Queen: the strange persistence of monarchies
Panel 2: Making the invisible visible
Philippe Croizon, professional disabled athlete (swimming), motivational speaker, writer
Myles Russell-Cook, senior curator of Indigenous Art at the NGV
Christophe Benzitoun, sociolinguist and author of Qui veut la peau du français?
Bettina Baldeschi, CEO at IWDA
 
Conclusion – The Future Starts Now
Natalie Kyriacou OAM, environmental leader, CEO My Green World
Léuli Eshrāghi, of Sāmoan/Persian/Cantonese ancestry, artist, curator, researcher
Aurelie Jacquet, development of responsible artificial intelligence, chair of Standards Australia committee on AI
 Complimentary food and drinks served during the break, and opportunities to interact with speakers.
On the 27th of October, attend a conference given by ANU academic Patrick De Dekker on the fascinating expedition
of Nicolas Baudin to Australia at the beginning of the 19th century.
Nicolas Baudin was a French explorer, cartographer, naturalist and hydrographer, he is most known for his explorations in Australia and the south Pacific. Baudin embarked on a journey to Australia after being selected to lead an expedition to complete the French cartographic survey of The Australian coast-line and conduct scientific investigations.
Nicolas Baudin
Patrick De Dekker
Patrick De Dekker is a professor in Earth Sciences at The Australian National University. In 2010, he was awarded the Mawson Medal by the Australian Academy of Science for outstanding contribution to Earth Science in Australia.
Fake News Exhibition
From 15 September to 14 October, the Alliance Francaise of Canberra will present 'Fake News', an exhibition produced by Poster for Tomorrow, with the support of the Institut Francais and the French Embassy in Australia. Opening night is on Friday 16 September!
'Fake News' is an exhibition that reflects on the power of spreading fake and misleading information. Graphic designers from around the world have designed posters reflecting on media, social media, misinformation and its consequences. 40 posters will be displayed at the Alliance Française of Canberra, inviting you to reflect on this theme.
With the ever growing use of social media, we are now constantly given global news and information – how do we detect which are true and which are not? Traditional media now have to face a constant flood of information online, from various sources. This exhibition reflects on the impact this has on public opinion, how these Fake News are used by various personalities and politicians.
Discover the top 10 posters that will be showcased at the exhibition!
Exhibition is free of entry and open at our Alliance opening times!
Fake News Student Contest
At the Alliance Francaise, we want to include young French learners and students in a debate on Fake News, and have them reflect on the impact of misleading information. We want them to fully understand the impact of Fake News, know how to identify them and analyse them in the future.
On this occasion we have organized a contest for 14 to 18 years old where they will have to create a fake news – making them experts at identifying them. Great prizes to be won (polaroid, speaker, earpods)! You have until August 17 to enter the contest.
Click here to read the conditions of entry:
Art By Yasmina Reza
Art by leading French playwright Yasmina Reza, the Olivier, Moliere and Tony Award-winning comedy classic, paints a satirical and witty portrait of the meaning of art and friendship with the scintillating English translation by Christopher Hampton a runaway success around the world. Starring international comedy legend, Shane Dundas with Christopher Carroll and Craig Alexander with direction from Shelly Higgs.
Are you who you think you are or are you who your friends think you are?
Fiendishly clever and wildly funny, 'Art' is a stylish meditation on the art of friendship and what it is that binds people together. A massive international hit and award-winning contemporary classic from the French powerhouse playwright Yasmina Reza, with a scintillating English translation by Christopher Hampton, 'Art' has enjoyed runaway success around the world since 1996.
It all starts in Paris. Serge has bought a modern work of art for a large sum of money. Marc hates the painting and cannot believe that a friend of his could possibly want such a work. Yvan attempts, unsuccessfully, to placate both sides with hilarious consequences.
The acclaimed French playwright, screenwriter and novelist, Yasmina Reza is best known for her plays Le Dieu du Carnage (God of Carnage) and Art, with Art winning the triple crown in the theatre world – the French Molière award, the British Olivier award and the American Tony award. The first non-English language piece to win a Tony, the play has been produced in 45 countries and translated into more than 30 languages. Reza is the only contemporary French author whose theatre is performed around the world.
On the occasion of the Francophonie Week 2022, the Francophonie Committee invites you to a fun-filled and interactive celebration of the francophone culture!
Organised in partnership with the Australian National University, the conference will include a presentation on the 'Organisation internationale de la Francophonie', as well as an international panel of speakers who will share typical words and expressions from their countries and regions.
A live quiz during the event will allow you to test your knowledge of the french spoken in different regions of the world, and a special prize will be awarded to the top-3 winners!
Drinks and nibbles will be served during the networking reception.
Guest Speakers include :
Dr Solène Inceoglu, SFHEA, Senior Lecturer in French, School of Literature, Languages and Linguistics, The Australian National University
Her Excellency Mrs Caroline Bichet-Anthamatten, Ambassador of Switzerland
Her Excellency Mrs Marie Claire Jeanne Monty, High Commissioner for Mauritius
Ms Isabelle Martin, Deputy Head of Mission, High Commission of Canada
Mr Arnaud Dusaucy, Deputy Head of Mission, Embassy of the Kingdom of Belgium in Canberra
Dr Yves Lafoy, Counsellor, Official Representative of New Caledonia to Australia, Embassy of France
Ms Agustina Camilli, Counsellor, Embassy of Uruguay
The Skien of Time Opening Exhibition by Sharon Field: Saturday 22nd of January – 8th of April 2022
Climate Change and Biodiversity Panel: Saturday 22nd of January 10:30am-12:30pm
Our place on this planet is becoming fragile as the natural climate becomes increasingly helpless in the face of the political and economic and industrial demands that continue to extract from but not give to it.  The plants and animals in our environment are undoubtedly tough, but they are helpless against the constant and unrelenting onslaught of humankind which is, for the most part, self-serving.  Can our now fragile environment sustain its biodiversity in the face of this constant battering?
As the sun sets on the horizon and the sky darkens, the night sky and the earth become one.  While we (people) set ourselves apart from so much in the natural world, when the evening falls, we too become one with the earth.  So let's look after our natural heritage.  We need it.
Come to a Panel discussion in featuring:
Sharon Field: Botanical artist, Sharon's work pushes the boundaries of traditional botanical art whilst maintaining the beauty and dramatic form of her subjects.  Appreciating nature's diversity and the importance of natural relationships in a rapidly changing environment is a fundamental underpinning to her artistic practice.  Sharon has enjoyed two residencies at Bundanon, the home of Arthur and Yvonne Boyd, and another at Stwdio Maelor in Wales. She was a finalist in the Waterhouse Natural History Art Prize, and was the 2017 recipient of the American Society of Botanical Artists 'Anne Ophelia Dowden Award', and an Award for Excellence from the UK Society of Botanical Art. Her work has been exhibited in the UK, the USA and Australia.
Thierry Corrège: Science and Higher Education Attaché, former professor of Earth and Marine Sciences at the University of Bordeaux since 2005, and deputy director of the EPOC (Continental and Oceanic Paleoenvironments and Environments) laboratory (U. Bordeaux/CNRS).
Brook Clinton: Brook Clinton is the Executive Officer at SEE-Change and is committed to all things sustainability but in particular thinking about clever consumerism and reduced waste. Brook has a PhD in biochemistry and microbial ecology, and also runs local community composting effort, Capital Scraps.
Discussion topics:
Our interaction with our ever-changing environment and the boundaries of what is considered traditional botanical art
International environmental context including recent international negotiations
how can each individual can make beneficial changes to our society and adapt in the face of climate change by taking concrete actions
10:30am:11:10am: Panel discussion with our three panelists
11:10:am-11:45am: Q&A
11:45am-12:00pm: Poetry reading by Stephanie Pouliquin and Opening speech by Sharon Field
12:00pm-12:30pm: Guests can ask their questions to the panelists and enjoy the exhibition
Mark your diary for a day of fun, food and French inspired artisan items.
A fabulous French market, right here in Canberra, with Cheeses, charcuterie, truffes, wines, crêpes, handmade products… discover a wide selection of fine French products and services at their annual French Market.
Make it a family outing and enjoy some French food while browsing the different stalls and enjoying live music and games for the kids and youngs at heart!
The French Market is the closest you'll come to France this year! With almost all stalls outside, you can have the French experience without the COVID concerns!
Opening Night: 5th of November, 6:00pm-8:00pm
Poetry reading by Stéphanie Pouliquin: Poetry as a way to express the deeper meaning of life and heal
This body of work aims to reflect the way we care for people, cradling the emotions of those around us and acknowledging that we all encounter difficulties and challenges in life.  Often we put others first, at other times we need to focus on our own self-care.  As we carry the emotional load of those we love, we need to find a place to release our own feelings, see them transform, and transfigure our shared identity.
These series of paintings were initially created when Marie Barincou offered self-care workshops to healthcare workers at the Canberra Hospital.  After each encounter, Barincou would engage in her own self-care through painting a representation of her own feelings.  She then offered her work to hospital's staff.  They felt moved by her attunement to their circumstances.
Subsequently, Arts in Health commissioned Barincou to create uplifting pictures to enliven the newly refurbished oncology ward.  Here, Marie Barincou showcases some of her research and preparatory paintings for this project.  Next month, the enlarged and gilded archival prints of the Journey's series will be on permanent display at the Canberra Hospital's Oncology Ward.
Marie Barincou, AThR, is a French-Australian multimodal artist and creative arts therapist.  She graduated with a Master of Fine Arts, in France, and a Master of Arts Therapy, in Australia.  Marie has a passion for human development and particularly values self-care practices.  She offers individual art therapy sessions and facilitates arts-based community engagement projects that allow relationships to unfold and deepen.  She strongly believes that together we create a better world.
Stéphanie Pouliquin is a teacher at Alliance Française Canberra. She studied art history and currently teaches French cinema and literature at AF. Stéphanie Pouliquin is French-Australian , teacher of French at Alliance française of Canberra since 2003. She lived in Germany and Italy before moving to Australia in 2001. She studied the history of art and languages in Montpellier. She has a passionate interest in philosophy and literature and how they can contribute to improving our daily life and well-being.