So Frenchy So Chic 2023
Melbourne 15.01 | Werribee Park – Werribee South
Sydney 21.01 | Bicentennial Park – Glebe
Operating since 2012, SFSC offers a unique festival experience of provençal style picnic and French music. Over the years, SFSC have showcased over 50 of France's best musicians, including FEFE, Yelle, The Dø, Clara Luciani, Nouvelle Vague, Lou Doillon, Nadéah, Brigitte, Deluxe, Camille, Bertrand Belin, and La Femme. Also teaming up with local artists, in 2021, SFSC launched Yè-Yè 2.0, a project that saw Australian female singers record interpretations of 1960s French pop hits in a series of EPs released on streaming platforms,  the festival also initiated a unique collaboration between FEFE and Melbourne funk band Cookin' On 3 Burners.
This year's musical lineup: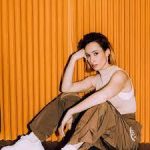 Suzane Suzane burst onto the scene from her home base in the South of France and immediately won over the public with her fast, fiery, and profound presence. Described as "more Mulan than Cinderella," she sings about her feminine combat in a patriarchal world with an unstoppable energy. A prolific dancer, she received a well-deserved French Grammy award (Victoires De La Musique) for Best Live Performance in 2020.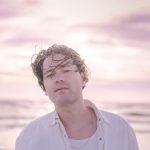 Gaspard Royant Talented journalist-turned-musician Gaspard Royant sings in both French and English, with a distinct 60s flavour evident in his music and wardrobe styling. Titled 'The Real Thing' and released in 2022, his fourth and most recent album samples iconic movements from the last century, blending Blue Eyed Soul, 60s Pop, 70s Soft Rock, 90s Electro and 00s Hip-Hop for a sound that depicts his take on the future of soul.
Discover Gaspard Royant on Spotify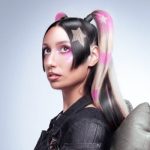 Kalika Fresh from performing at France's summer festival circuit, Kalika's voice has been described as "an iron fist in a velvet glove". Her sincerity, determination and electric stage presence come from travelling the markets in a caravan as a child with her grandmother, learning how to whip up a crowd. At the age of 17, she finished second on French talent show La Nouvelle Star and started working in Nancy with the MAI (Music Academy International), focusing on current music, before completing her training at a Parisian jazz school. She has also collaborated with iconic French duo Yelle.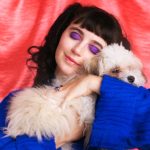 Pi Ja Ma Creative in every sense, Pi Ja Ma, aka Pauline de Tarragon, balances her time between music and illustrating. Known for "gentle exuberance" and a paradox in which she is both a "lone wolf and addicted to love," her sound is that of French pop with a distinct 60s influence — echoing SFSC's 2022 project Yè-Yè 2.0, which saw top Australian female artists reinterpreting songs from that era.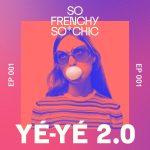 YÉ-YÉ 2.0 So Frenchy So Chic's 2023 lineup will see local musicians Nadéah and Ali Barter return to the stage to perform songs from YÉ-YÉ 2.0, a project by festival founder Jean-Francois Ponthieux. In 1960s France, Yé-Yé emerged as a music movement influenced by British & American rock, chanson and other styles to create a fresh, distinctive sound. Launched in late 2021, YÉ-YÉ 2.0 saw Australia's finest female artists putting their own spin on songs from the Yé-Yé in a series of EPs — soon to launch as an album.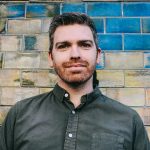 SFSC DJ's Melbourne DJ and radio host Mike Gurrieri's SFSC set will reflect his broad, superlative taste, spanning from '60s jazz and chanson through to '70s disco and soul, '80s boogie, '90s hip-hop and house, plus the latest French dance floor tunes.
In both cities, festival founder Jean-Francois Ponthieux will make a rare appearance behind the decks alongside our star DJs for a special live radio set of French favourites new and old.
Discover Mike Gurrieri on Spotify
____________________________________________________________________________________________________________________________________
Purchase tickets for So Frenchy So Chic SYDNEY 2023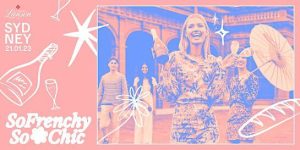 Purchase tickets for So Frenchy So Chic MELBOURNE 2023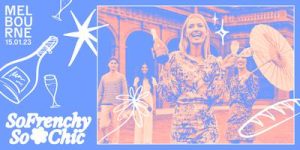 In 2023, the AFFFF will return for its impressive 34th year.
Here are the festival dates per city:
March 7–April 5: Sydney, NSW
March 8–April 5: Melbourne, VIC
March 8–April 5: Perth, WA
March 9–19: Hobart, TAS
March 9–April 5: Canberra, ACT
March 15–April 12: Brisbane, QLD
March 16–April 5: Byron Bay, NSW
March 23–April 19: Adelaide, SA
March 29–April 2: Parramatta, NSW
March 29–April 2: Rooty Hill, NSW
March 29–April 16: Gold Coast, QLD
March 31–April 2: Margaret River, WA
April 3 and 10: Victor Harbour, SA
April 21–23: Bendigo, VIC
+ encore dates in some cities
Bastille Day 2022 in Australia
From July 10th to July 24th 
Australia is ready for Bastille Day, the national day of France, which is celebrated on 14 July each year.
In French, it is formally called Fête nationale française, and legally le 14 juillet.
Head over to the French Embassy to Australia's website to find an event in your town!
For more information on this fascinating celebration and the history behind it read the article from Matilda Marseillaise.
To celebrate the 40th anniversary of the Fête de la Musique, the French Embassy in Australia partnered with the General Consulate of France, Creative NSW, Phoenix Central Park, the MCA,
the Powerhouse Museum, the Mosman Art Gallery, Avenue on Sussex, Four Frogs Créperie, and Ondine offer a free musical program in Sydney and Canberra on June 21st 2022. 
Book your tickets at Palace cinemas and enjoy the best of contemporary French cinema in Australia. Featuring 41 must-see films, there is a movie for everyone! Check out the line-up .
Sydney:
1 MAR to 6 APR
Canberra:
2 MAR to 6 APR
Melbourne:
3 MAR to 6 APR
Perth:
9 MAR to 6 APR
Brisbane:
16 MAR to 13 APR
Adelaide:
24 MAR to 26 APR
Byron Bay:
30 MAR to 14 APR
Parramatta:
7 to 10 APR
Hobart:
9 to 20 MAR
SO FRENCHY SO CHIC – 2022 FESTIVAL DATES
Sunday 13 Feb – Werribee Park Mansion, Melbourne
Saturday 19 Feb – Bicentennial Park, Sydney
TICKETS HERE
For 16 years, So Frenchy So Chic has bridged the cultural gap between Australia and France via a shared love of music, food and conviviality. 
So Frenchy So Chic began as Cartell Music, a Melbourne record label founded by French-Australian Jean-Francois Ponthieux, who dreamt of introducing contemporary French pop to Australian music lovers.
Van Gogh's works have been exhibited and admired for over a century – but never like this.
Created by Grande Experiences, Van Gogh Alive gives visitors the unique opportunity to immerse themselves into Van Gogh's artistry and truly venture into his world. Traditions of tiptoeing through silent galleries and viewing paintings from afar in quiet contemplation are forgotten as visitors find themselves interacting with art in ways they never imagined. From start to finish, visitors are surrounded by a vibrant symphony of light, colour, sound and fragrance that has been called an 'unforgettable' multi-sensory experience.
Van Gogh's masterpieces come to life, giving visitors the sensation of walking right into his paintings, a feeling that is simultaneously enchanting, entertaining and educational. Adults and children delight in the super-scale show, viewing artworks from new angles and discovering unique perspectives. But don't just take their word for it: experience it for yourself!
Brisbane:
Where: 257 MacArthur Ave, Hamilton QLD 4007
When: From 29th of October to 23rd of December 2021
Canberra:
Where: Parkes Place Lawn
When : From the 5th of March to 27th of March  2022
Rugby Australia has welcomed the arrival of the Fédération Française de Rugby.
They will play 3 matches in first international rugby union Test:
Sydney on July 7, Cricket Ground
Melbourne on July 13, AAMI Park
Brisbane on July 17, Brisbane's Suncorp Stadium
To find the list of the 42 players called up to the French national team: List XV de France