BLANC DE BLANC ENCORE
The show that sold out the Sydney Opera House finally makes its return to Sydney, this time at a fabulous new Strut & Fret venue on the edge of Surry Hills.
This iconic building has been totally revamped into a glam and gilded space fit for a champagne cabaret you'll never forget!
The five-star extravaganza BLANC DE BLANC ENCORE, is a smash-hit show from creative geniuses, Strut & Fret; the team behind Madonna's Rebel Heart tour and international sensations BLANC DE BLANC (original), LIFE – THE SHOW, and LIMBO. Expect all the beautiful champagne-soaked debauchery from the original Blanc de Blanc, sparkling with new surprises.
It's time to immerse yourself in the hedonistic, glamorous and extravagant world of vintage French flair, risqué humour, spectacular aerials, comedy and big dance numbers.
With its acclaimed international cast, this intoxicating Gatsby-esque ride astonishes and delights with its unique brand of opulent, cheeky, edge-of-your-seat theatre.
We recommend you arrive at least 30 minutes prior to showtime, so you can find your seat and grab a drink without needing to rush.
Dress Code: Smart-casual but audiences are encouraged to glam it up with a touch of sparkle, if the mood takes you!
  Claire's pop up petit cabaret :
Promenade à Paris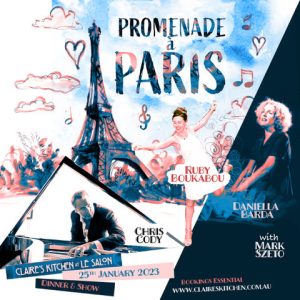 About the event
3 courses from our a la carte menu and 2 twenty minute sets $120 p/p
This delightful cabaret is a musical stroll through the French capital. Audiences will magically:
Wander through Montmartre in the Belle Epoque.
Live it up at Maxim's in the Jazz era.
Swing to gypsy jazz in the 40s in Bastille.
Catch Edith Piaf performing at the Moulin Rouge.
Experience existentialism in the 60s on the Left Bank.
Saunter down the Seine
Bop to jazz on a barge by the Pont Marie.
Pianist Chris Cody, vocalist Daniella Barda and writer/tap dancer Ruby Boukabou met while performing in jazz clubs, theatres and cabarets in Paris. Their unique chemistry was woven over many late Parisian nights in jazz caves full of song, dance, debate and discovery. Along with bassist Mark Szeto, they created Promenade à Paris to serve Australian audiences this potent Parisian cocktail of music, tap dance and joie de vivre.
Chris Cody
Pianist and composer Chris Cody lived in Paris for 25 years where he worked with numerous jazz musicians and with artists such as Carla Bruni, Michel Jonasz, Belle du Berry (Paris Combo) and Marcel Azolla (Jacque Brel's accordionist). He also performed in French theatre productions such as Le Gros, la Vache et le Mainate, (Theatre du Champs- Élysée) Jazzie Josie B (Le Trianon, Montmartre) and Crochambule (Bastille).  In Australia Chris has performed with The Paris Cats, Baby et Lulu and Excuse The French as well as leading his own jazz group (Chris Cody Coalition) at festivals and concerts. www.chriscody.com
Daniella Barda
Daniella Barda spent over 20 years in Paris and throughout Europe entertaining people with her beautiful melodies and touching tones. She flows smoothly between styles – from Broadway tunes to Big Band, modern jazz to Bossa Nova. A passionate performer with a great sense of humour, Daniella's gigs are always a treat to attend whether they be in a piano bar in the Latin Quarter, a jazz cave in the Marais or at the Festival d'Avignon.
Ruby Boukabou
Ruby Boukabou is a writer, tap dancer and cabaret performer based between Sydney and Paris. She has spent the last couple of decades tapping up a storm in cabarets and concert venues around the world from Zurich to Paris, Melbourne to Mumbai, London to Cairo. She is also a travel reporter and the author of 'The Art Lover's Guide to Paris', 'The Architecture Lover's Guide to Paris' and 'Sense in the City, Paris'.
Past cabarets Ruby has written and performed include 'Parisian Rendez Vous', 'The Paris Cats' and 'Paris by Night'. www.rubytv.net
Mark Szeto
Double bass player Mark Szeto has toured extensively with the Sydney based world music band Monsieur Camembert including performances at the Montreux Jazz Festival in Switzerland. The band won an ARIA award for Best World Music Album in 2003 for Absynthe and again in 2005 for their self-titled double album. He has since played with many of Sydney's classical ensembles and for many touring international artists and local music greats.
About this event
"The best in the biz" – Channel 7 The Morning Show ; "Just beautiful" – Channel 9 Today Show ; "Ohlala, Magnifique !" – Bastille Food Wine Art Revolution Festival ; "delivers both a bundle of emotions and a mesmerising night out"     – Stage Whispers
Cabaret La Belle Rose dinner and show Evening Program:
Arrival 6.33pm
SECRET TOP HAT BAR OPEN
CABARET ROOM – COURSE 1 – DINNER
Bœuf à la Bourguignonne
A well-known traditional French recipe from the Burgundy region in France, created in the early 1900s' by the king of chefs, Auguste Escoffier. More than a beef stew, it is braised in red wine over two days, flavoured with carrots, onions, garlic, and a bouquet garni….accompanied with soft, creamy mash potatoes.
Vegetarian / Vegan – French Roasted Cauliflower with thyme, accompanied with a French country salad – Must be requested by email 48 hours prior to show date