Voiture 21 at the Vivid Sydney Festival
The inspiring Vivid Sydney Festival is back this year for its 13th edition from May 26 to June 17, and it is not to be missed! This immersive and unique festival concentrates on creativity, ingenuity, and technology while bringing communities together through the captivating power of light. With millions of visitors each year, it will once again transform the city of Sydney for 23 days and nights by sublimating its iconic landmarks and turning them into spectacular works of art using light installations and projections. Not only  visually inspiring, the Vivid Festival will also please the rest of visitors' senses thanks to its program of free music shows at Tumbalong park, and the celebration of Sydney's culinary culture with this year's novelty: Vivid Food!
Among the 57 light attractions that will create a stunning visual landscape of the city, France will, this year be proudly represented by the incredibly talented Milosh Luczynski. Based in Paris, Milosh is a visionary artist, whose work takes viewers on a mind-bending journey through time and space, blurring the boundaries between art and technology. Throughout his career, he has collaborated with numerous musicians, writers, poets, and performers, displaying his monumental multimedia installations at many famous locations around the globe such as the Palais de Tokyo, Kunsthaus Baselland, National Gallery Singapore, and more.
The festival will be the occasion for the public to discover his newest transporting work: Voiture 21, a mesmerising project taking visitors on a virtual train journey through dreamlike landscapes without even leaving the city. The abandoned tunnel at the end of The Goods Line will be transformed into a moving train carriage through the captivating projections of scenic footage taken by the artist during his travels around the world. Milosh's innovative 360-degree capture technology creates a fully immersive experience, taking the traveler throughout Australia using new footage captured earlier this year of Sydney and the Blue Mountains. The project will breathe new life into the disused tunnel and pay homage to the train and memories of travel, while inviting you to daydream as you travel through bustling cities, deserted beaches, snowy mountains, and many more captivating landscapes.
Don't miss the chance to be a part of this voyage like no other and be sure to check out the festival's website for more information on all the attractions before the train's departure on May 26th : https://www.vividsydney.com/event/light/voiture-21
Country Cabaret
Les folies fermières
The French Film Festival is now in full swing and French films are taking over Australian cinemas. However, many films remain to be discovered: Country Cabaret is one of them. This wild true story puts the countryside in the spotlight and is both touching and beautiful but also quite funny: imagine Priscilla, Queen of the desert, in the middle of the remote countryside.
Country Cabaret, directed by Jean-Pierre Améris is based on the true story of David Caumette (Alban Ivanov) – a French cattle farmer on the brink of liquidation – and narrates how his unexpected encounter with Bonnie (Sabrina Ouazani) – a dazzling nightclub performer – changed the future of his farm. As they meet, inspiration strikes and his plans to turn his big old barn into a cabaret venue with a troupe of local performers blossom.
This brilliant comedy highlights something important that is rarely talked about: the rise of a new type of agriculture in the current climatic context. This film questions consumers' relationship with their food and relates the struggles farmers face with great accuracy. To keep their business going, farmers are eager to offer quality products and encourage the public to consume more sustainably.
Like many French farmers nowadays, Caumette implemented a local food network; a method used to market agricultural products in which a maximum of one intermediary is involved between the producer and the consumer. As a result, ties between producers and consumers are strengthened. This distribution method is increasingly being adopted because of its environmental adavantages, compared to traditional distribution methods, the transportation of goods is reduced and in the case of a direct sale on the farm itself, almost non-existent. In a time of climate change and green agriculture, responsible consumption approaches seems to convince more and more farms.
As of today, the Les Folies Fermières cabaret has been met with huge success, both with national and international visitors. The surrounding businesses happily benefit from the consistent enthusiasm around the project, which was also beneficial to Caumette's farm as fifteen new jobs were created in just fifteen years. This project was able to save the farm from bankruptcy, something not all farmers have been fortunate enough to achieve. Similarily to many other countries, France has been experiencing a steady reduction in the number of farmers in the workforce over the past forty years, as well as a general decline in the quality of life of these farmers despite a frantic and demanding work pace.
If you would like to learn more about this crazy and touching story do not miss the opportunity to discover this film in your city during the Alliance Française French Film Festival 2023 : https://www.affrenchfilmfestival.org/film/country-cabaret,
or visit their website : https://lesfoliesfermieres.com!
La semaine de la Francophonie 2023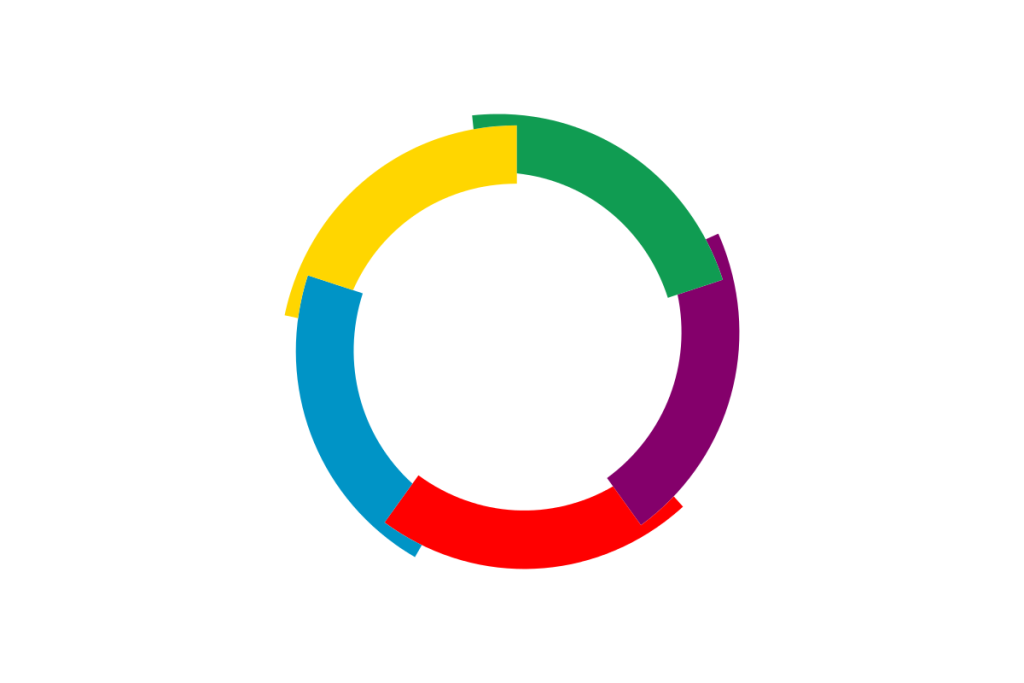 Francophonie, What does it mean ?
With more than 300 million speakers worldwide, French is the fifth most spoken language in the world.
The group of people who speak French is thus known as the Francophonien but La Francophonie (with a capital letter) is also the institutional framework that brings together French-speaking countries. Francophonie is a human and cultural space based on the French language.
300 million French speakers, who are they?
Among the 300 million French speakers in the world, there are first of all those whose mother tongue is French. This group includes a large majority of speakers in France, Wallonia (in Belgium), Quebec (in Canada) or French-speaking Switzerland.  Also included in this category are a growing number of households in French-speaking Africa, especially in large cities.
Then there are the French speakers whose mother tongue is not French, but who use it on a daily basis, because it is the language of school, administration, the media and the economy. French is one of the official languages of many world organisations such as UNESCO, the UN and Médecins Sans Frontières. In addition, it is one of the five most widely used official languages in the European Union.
In total, 235 million of the 300 million French speakers use French on a daily basis. The rest are people who speak French because they learned it as a foreign language, usually during their studies.
La Francophonie is also made up of institutions
Since a language is not just a way of speaking but a way of looking at the world, the International Organisation of the Francophonie (OIF) was created in 1970. Today it brings together 88 countries on five continents and its main mission is to promote the French language throughout the world. Beyond its linguistic objective, the OIF is committed to promoting human rights and democracy. Among the institutions of the Francophonie there are also other structures, notably in the educational and cultural fields, such as the TV5 Monde television channel available on SBS.
And what about Francophonie week ?
Francophonie Week takes place around the International Francophonie Day, held on March 20 each year, and provides an opportunity for French speakers around the world to celebrate the French language in all its diversity but also for non-French speakers to discover francophone cultures, literature, arts and more from around the world. Every year, more than 1,500 events are organised in 70 countries.
The program across Australia:
La semaine de la langue française et de la Francophonie is the meeting place for lovers of words, in France and abroad. The theme chosen this year, "At all times? / À tous les temps", invites us to reflect on our perception and our relationship to time, especially by playing with the French words that express them. From writing competitions to slam tournaments, to intergenerational dictations, calligraphy workshops, narrated readings, francophone concerts and theatre performances, all artistic disciplines are valued.
Canberra
Monday 20th of March:  Francophone Short Film Night at the Australian National UniversityOn Monday 20 March from 6.30pm, come along to attend a free screening of French-speaking short movies (subtitled in English) presented by the High Commission of Canada, the Embassy of Belgium and the Embassy of Lebanon.
The event includes refreshments at the end of the screenings and a trivia-style competition about Francophonie with prizes to be won. 
Friday 24th of March: Francophonie Market at the Allianec Française de Canberra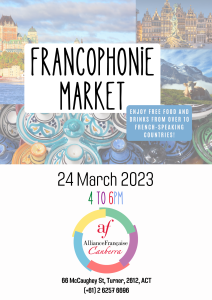 On Friday 24th of March, from 4 to 6pm head to AF Canberra for a celebration of francophone cultures and countries.
Enjoy free food and drinks from around the world including stalls from Lebanon, Belgium, Switzerland, Uruguay, France, Canada and Morocco.
Grab a Francophonie Passport at the beginning of the market and collect stamps from every stall following an activity to win a special prize.
Sydney
Wednesday 22nd of March: Lycée Condorcet French Language Evening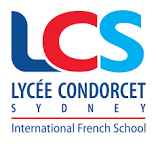 On the 22nd of March, celebrate the 5th most spoken language in the world!
For more information
Perth
Tuesday 21st of March from

6:30 pm – 9:00 pm

: Enjoy a special screening of the French cinema classic  featuring Vincent Cassel, La Haine.
La Haine is a cult-classic film portaraying the fractured French society of the 90s and the rise of hip hop culture.
Friday 24th from 11:00 am – 12:30 pm: Library Lovers: Why Don't WAussies Speak French at Ballajura Library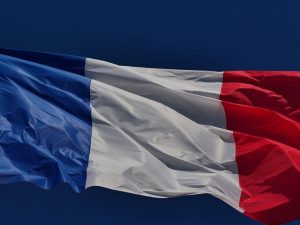 Join Elton Brown for a light-hearted talk on the French explorations of the WA coast and the failed attempts to colonise.
French Film Festival 2023
4 Films based on novels
The 34th Alliance Française French Film festival is now open! Head to the official website to discover the dates and film offerings in your city.
This special edition features four films based on novels, allowing you to prolong the magic of the festival, or simply continue practising your French!
Lie with me / Arrête avec tes mensonges
Directed by Olivier Peyon
Starring Guillaume de Tonquédec, Victor Belmondo, Guilaine Londez, Jérémy Gillet, Julien De Saint-Jean
Lie with me, based on the autobiographic novel by Philippe Besson follows Stéphane Belcourt, a famous writer who has just signed as a brand ambassador for a famous Cognac brand as he returns to his hometown for the first time after thirty years. There, he revisits the passionate love story he had with Thomas in the 80s. The film features a plot twist so we won't say any more!
As per an IMBD reviewer:
As is the book, the story here is autobiographical and it is felt. The movie captures that quite well, there's a rawness to it that makes it feel like you're watching these events as they are unfolding whether they are in the present or the flashbacks. A movie that goes back and forth between the present and the past is nothing new, and someone reminiscing on their first love isn't either, but this film does a good job of it in the way it's structured. The flashbacks actually feel like memories, as bittersweet as they can be, and contrast well with Stephane now as he's still hurt by them and yet cherish them.
Book your tickets here.
On the Wandering Paths / Sur les chemins noirs

Directed by Denis Imbert
Starring Jean Dujardin, Izïa Higelin, Anny Duperey
Selling more than 425,000 copies in France, this epic autobiographic tale was a hit with French readers. On the Wandering Paths, follows Sylvian, played by Jean Dujardin, as he embarks on a three-month journey on foot of solitude and contemplation. After having recovered from a serious injury and coma, Sylvain decides to embark on a journey through country-side France, following obscure paths previously walked by peasants through the mountainous south of France.
Sylvain Tesson's On the Wandering Paths is an epic journey through the mountainous landscape of southern France. Revealing intimate knowledge of both the peasant landscape and its history, it is also Tesson's autobiography as an explorer and lyricist. A rare book in the traveling genre for everyone who dreams of leaving the rat race behind to find meaning in the beauty of nature.
–     Rane Willerslev, director, National Museum of Denmark
Ride Above / Tempête au haras

Directed by Christian Duguay
Starring Mélanie Laurent, Pio Marmaï, Kacey Mottet Klein, Carmen Kassovitz, Atmen Kelif
Based on the novel "Tempête au haras" by Christophe Donner, Ride Above is the story of Zoé, having grown up among horses at her parents' stud farm, she dreams of becoming a jockey and forms a deep bond with a young horse. A terrible accident threatens to end their racing careers, but they fight to reach victory together.
Not since a teenage Elizabeth Taylor rode her steed to victory in National Velvet has a film about a kid and a horse proven such an effective tearjerker as Christian Duguay's French drama about a young girl who doesn't let a terrible accident prevent her from pursuing her dream of becoming a jockey. The film may feel predictable at times in its plot machinations, but it nonetheless exerts a solid emotional pull that should make it a crowd-pleaser upon its theatrical release next month in its native country. Ride Above recently received its U.S. premiere as the centerpiece film of the Fort Lauderdale International Film Festival.
– Franck Scheck, The Hollywood Reporter
Book your tickets here.
Sugar and Stars / À la belle étoile

Directed by Sébastien Tulard
Starring Riadh Belaïche, Loubna Abidar, Christine Citti, Patrick d'Assumçao, Phénix Brossard
Based on Yazid Ichemrahem's autobiographic novel, Un rêve d'enfant étoilé , Sugar and Stars tells his story of a rising pastry chef against all odds despite his difficult beginnings living in foster homes.
As per an AlloCine reviewer [translated]:
Being a pastry lover myself, I was instantly drawn to the film and what a great discovery it was thanks to Riadh's acting game. I was initially quite doubtful about seeing an influencer be selected as lead but I quickly changed my mind!
He acts wonderfully and viewers are very taken by the story. The film also features beautiful visuals and the plot is very touching, overall a great production!
Book your tickets here.
Annie's Fire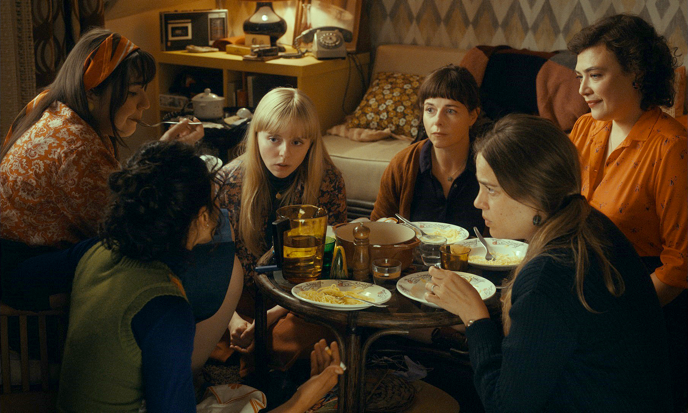 The Spirit of Feminist Solidarity
Today is International Women's Day (the 8th of March), a day serving as a focal point in the women's rights movement, bringing attention to issues such as gender equality, reproductive rights, violence, and abuse against women. Even though the earliest reported Women's Day observance was in 1909, 2023 still holds its share of issues and causes worth fighting for. Among the selection of the 34th edition of the Alliance Française French Film Festival lies a particularly moving testimony: Annie's Fire directed by Blandine Lenoir featuring recent César winner Laure Calamy. This heart-rending story is one of women and feminism, making the 8th of March seem like the perfect opportunity to focus on Lenoir's rousing abortion drama and the struggles it depicts.
In February 1974, Annie (Laure Calamy), a working-class mother of two, accidentally falls pregnant with an unwanted third child she knows her family could not afford. Introduced to a group of local women and doctors who offer judgement-free support and family planning, she is surprised by their camaraderie and conviction. Through them, Annie eventually finds her mind opened to feminism and self-empowerment. This film – inspired by true events – tells the story of networks, such as the Movement for Liberty of Abortion and Contraception (MLAC), who defiantly refused to hide from public view and fought for women's rights to safe abortions and reproductive rights, even though their efforts are considered illegal.
The film features various complicated characters as there is no one-size-fits-all story: having a right to choose is the common factor linking those disparate lives. In 1975, a year after the events depicted, the Veil Act decriminalising voluntary termination of pregnancies in France, prepared by the incredible Simone Veil, was promulgated. However, with lawmakers and activists restaging this battle half a century later, history appears to be repeating itself with the major step back for women's reproductive rights that the overturning of Roe vs. Wade (USA) represents. This story of women banding together to assert their bodily autonomy in an age of sexual revolution feels all too timely; not merely a compelling reminder of how things were, but a warning of how they could yet be.
If you would like to learn more about this incredibly touching story and about french women's battles for women's rights do not miss the opportunity to discover this film in your city during the Alliance Française French Film Festival: https://www.affrenchfilmfestival.org/film/annie-s-fire.
Watch the trailer:
Notre Dame On Fire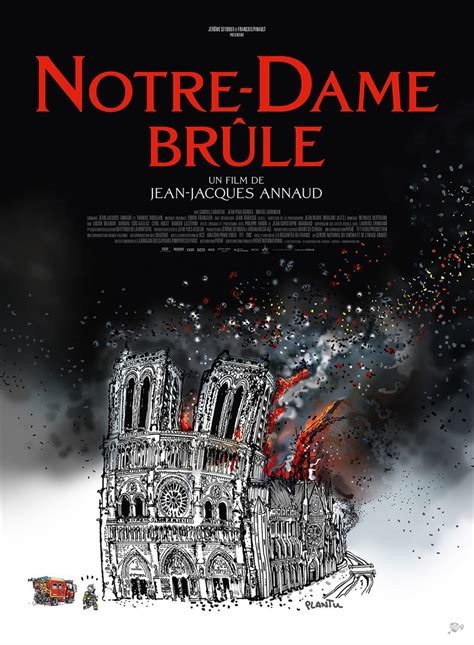 Four Years Later: The Aftermath
The 34th edition of the French Film Festival features a wide range of French films for you to enjoy; from comedies and thrillers to drama and romance, there is something for everyone! Among this selection, you will be able to see a film called Notre Dame on Fire, directed by Jean-Jacques Annaud. This film retraces, hour by hour, the incredible events of the 15th of April 2019, when the cathedral suffered the worst fire in its history, and how men and women, firefighters, put their lives at risk in an astonishing and heroic rescue. Almost four years later, how is the reconstruction process going?
The reconstruction of the Notre Dame Cathedral is a complex process that involves many steps. First, the structure needed to be stabilised to ensure that it would be safe for workers to enter. It involved removing debris, reinforcing the walls, vaults and, eventually, dismantling the damaged roof and spire. In the meantime, engineers and architects used advanced technology to assess the damage and create a plan for reconstruction. Starting in the summer of 2019, this phase ended in the summer of 2021, during which time 300 tons of burned scaffolding surrounding the spire were removed.
It was only then that the second part could begin: reconstruction. Preliminary operations were conducted on-site in early 2022 to ensure that the stonemasons, wall painting and sculpture restorers, master glassmakers, and other ironworkers could safely return to the cathedral where the interior restoration work had begun. Workers are currently carefully restoring the works of art, the stained-glass windows, and the great organ. In the meantime, close to 1,000 oak trees were selected from local forests all over France to be used in the new Cathedral spire, which was designed to be similar to Eugène Viollet-le-Duc's original vision while incorporating modern techniques. Oak trees are currently being stored in optimal conditions for future use. A total of 1,000 m³ of stone blocks – needed to rebuild collapsed or damaged vaults, as well as to restore high bays, coffered walls and railings – are also being selected in quarries.
As you can see, the church is still going through a massive restoration. However, French president Emmanuel Macron is hoping to have the church – who used to average 20 million visitors per years – repaired before the city hosts the 2024 Summer Olympics in Paris.
To learn more about the firefighters' point of view and the events, do not miss the opportunity to discover this film in your city during the Alliance Française French Film Festival 2023 : https://www.affrenchfilmfestival.org/film/notre-dame-on-fire/.
Watch the trailer:
Germaine Acogny
The Mother of Contemporary African Dance
International dance star Germaine Acogny, commonly referred to as the Mother of Contemporary African dance, is gracing Australia with her presence this March to perform in various showcases and conduct masterclasses and other meetings. On the 11th of March, she will perform a stunning set at Sydney's Opera House on the opening night of the All About Women Festival.
The Senegalese dancer and choreographer, born in Benin in 1944, moved to France as a teenager to study modern dance and ballet. She later decided to return to Senegal to teach dance locally while creating and perfecting her own technique and style, which would later become known as the Germaine Acogny technique. In 1977, she ran the Mudra Afrique dance school where she taught a mix of African dances intertwined with Western styles, ultimately leading to the publication of her book African Dance in 1980, which became a pillar for Senegalese dance. With her husband Helmut Vogt, she then founded the "studio-school ballet-theatre du 3e monde" in Toulouse in 1985.
Germaine Acogny achieved international fame in 1991 after winning the London Contemporary Dance and Performance Award and opened, in 1998, the now-celebrated Ecole des Sables. It is considered to be a prominent contemporary dance centre, which attracts dancers and choreographers from around Africa and the rest of the world. Her performances, both as a dancer and choreographer, have won numerous awards, a testament to her talent. In 2021, the still-dancing 78 year-old was awarded the Golden Lion for Dance at the Venice Biennale after being named a Knight of the Order of Merit, Officer of the Order of Arts and Letters of the French Republic, and Knight of the National Order of the Lion of Senegal.
This March, it is in Australia that Mama Africa will land. Starting with the Opera House in Sydney for the opening night of All About Women, she will then go on to teach her Germaine Acogny Technique discovery Masterclass to Australian and Aboriginal dance students. These moments of interaction will enable artists to discover, discuss, learn, and create in a supportive environment. She will end her Australian journey in Melbourne to perform the beautiful Somewhere at the Beginning at Arts House, in which Germaine shows, through her testimony and her dance, a confrontation between the self and the world, as if a new start was still possible. Where the great ideologies no longer manage to provide an identity to the individual, it seems essential to continue to offer a dialogue with the intimacy of all.
Do not miss the opportunity to discover this incredible artist and her magnificent work in Sydney  (https://www.sydneyoperahouse.com/events/whats-on/all-about-women/2023/opening-night-gala.html) and Melbourne (https://www.artshouse.com.au/events/somewhere-at-the-beginning/) !
Enter Cedric Tiberghien's Cage Project!
Prized piano star Cédric Tiberghien is coming to Australia ! First present in Sydney to perform Ravel's majestic Concerto for the Left Hand, conducted by Simone Young in the Concert Hall of the Opera House, he will then be flying to Perth and Adelaide to present the Cage Project.
The Cage Project was born from the meeting of the acclaimed French pianist, Cedric Tiberghien, and the talented Australian percussionist Matthias Schack-Arnott. Co-commissioned by Music Viva Australia, Perth Festival, Adelaide Festival, and the Naomi Milgram Foundation, this brand new French-Australian collaboration will be premiering this February.
John Cage's Sonatas and Interludes for prepared piano, which will be reinterpreted on this occasion, hold special meaning in the heart of the French pianist as his master at the Paris Conservatoire, Gérard Frémy, was particularly fond of this beautiful and powerful work. Imbued with Indian philosophy, this work explores human emotions in the pursuit of a higher state and tranquillity. Having himself grown with this piece, Cédric Tiberghien invites the audience to an initiatory and meditative journey with his bewitching performance and the help of Matthias Schack-Arnott's creativity.
What makes this experience really unique is the impressive and massive kinetic sound sculpture built by the Australian genius. While literally and figuratively flying above the piano, it sublimates Tiberghien's sumptuous playing by ringing and chiming in synchronicity. The combination of both talents brings a new dimension to this multisensorial and unforgettable journey !
So, do not miss the incredible performances and the world-premiere of this percussive, sentimental, and melodic performance live in Perth and Adelaide!
Ravel's majestic Concerto for the Left Hand
Online applications now open for international studies of art, fashion,
design, music, architecture and 3D animation in France!
Online applications for art, fashion, design, music and architecture studies are open on the CampusArt network website until 28 February 2023.
CampusArt is a network of French institutions offering university-level programs in art and architecture, led by Campus France with the support of the French Ministries of Education, Higher Education, Research and Innovation, Europe and Foreign Affairs, and Culture.
The website, www.campusart.org gives access, (under specific conditions) to various degrees in a wide range of schools (visual arts, cinema, design, visual communication, fashion, music, architecture,…): preparatory classes, Bachelor's, Master's, Post-master's and Doctorate levels.
CampusArt offers a unique online application process enabling students to apply for degrees in more than 140 schools and universities through one single application.
Outcomes will be communicated between February and April 2023, enabling students to prepare their stay as soon as possible.
The online service is completely free up until the applicant decides to accept an offer.
The online application process is available everywhere in the world. CampusArt does not replace the "Etudes en France" procedure now established in most countries wherein a visa is required.
Application deadlines are as follows:
until February 28, 2023:

 Applications on the CampusArt website are open, students are invited to fill out their electronic CampusArt applications.

February 28, 2023:

 Deadline to submit applications. Phone and skype intervies commence. Pre-enrolment offers commence (students will be contacted via the CampusArt platform).

30 April 2023:

 End of the pre-enrolment offer period.

30 April 2023 – 31 May 2023:

 Timeframe for students to respond to admission offers through their CampusArt account.

31 May 2023:

 Deadline for students to confirm entry into their selected program through the CampusArt platform.

From the end of May 2023:

 Preparation and submission of original certificates preregistration by institutions to CampusArt. CampusArt sends certificates to registered students.


Pre-enrolment certificates are prepared and sent by higher education establishments to CampusArt. These are then sent by Campusart to students enrolled.
Grammy Awards 2023 | The 'Made in France' nominees
The 65th Grammy Awards is approaching and will be taking place on 5th February in Los Angeles at the Crypto.com Arena. The ceremony will be aired live on CBS and also live or on demand on Paramount +.
For the latest edition there will be 91 awards and six new categories have been added. Among the nominees unveiled on 15th November are four 'Made in France' artists: David Guetta, Ibrahim Maalouf, Cécile McLorin Salvant and Nancy Grant. World-famous DJ and producer David Guetta, who has already been nominated a number of times, has also won two awards in previous years. But for Franco-Lebanese trumpet-player and composer Maalouf it would be a first award at the globally renowned ceremony. Franco-American singer Cécile McLorin Salvant is in the running in two categories, while French-Quebecoise Nancy Grant is nominated for her contribution to Adele's video for 'Easy On Me', directed with Xavier Dolan (the same pair that directed the video for 'Hello', which received numerous awards including 'Song of the Year' in 2015.
"Best Dance/Electronic Recording"
David Guetta and Bebe Rexha – "I'm Good (Blue)"
"Best Global Music Album"
Ibrahim Maalouf et Angélique Kidjo – Queen of Sheba
"Best Jazz Vocal Album" and "Best Arrangement, Instrument and Vocals"
Cécile McLorin Salvant – Ghost Song and "Optimistic Voices/No Love Dying"
"Best Music Video"
Nancy Grant – "Easy on me"