What is the baccalauréat?
The baccalauréat, often known in France colloquially as the bac, is a French national academic qualification that students obtain at the completion of their secondary education (at the end of the lycée) like the Australian equivalent; the High School Certificate (HSC). Unlike the HSC, it is a two-year programme in which oral and written exams account for 60% of the final grade, and ongoing assessments for the remaining 40%.
Depending on the school, students have the following options:
the baccalauréat général (general baccalaureate), with three different specialisations: Literary, Scientific, or focusing on Economics & Social Sciences
the baccalauréat technologique (technological baccalaureate)
the baccalauréat professionnel (professional baccalaureate)
Schools offering the baccalauréat in Australia:



1.  Lycée Condorcet in Sydney:
At the Lycée Condorcet Sydney, the mission is to give students a world-class education in an international environment that allows them to graduate as French-English bilingual citizens of the world. As well as offering a complete school curriculum for children aged 3 to 18 in French and English, LCS is also a member of the worldwide network of French schools abroad and follows the principles and values of educational excellence "à la française." Students come from all over the world and from many different backgrounds to gain a high-quality, well-rounded education in a French yet multi-cultural environment. After graduation, they are able to pursue further studies anywhere they choose as citizens of the world.
The primary school and the education program are designed to facilitate the bilingual program. To maximise the early development of the French language in an English-speaking community, students in Kindergarten, Year 1 and Year 2 have four days of French instruction and one in English (80:20 split). Students then have 50:50 English/French instruction from Year 3 to Year 6, inclusive.
To support the development of bilingualism and to promote 'switching', a critical aspect of bilingualism, students have up to three hours per week in bilingual periods where French and Australian teachers work together with each class in which students are expected to operate in both languages. That is, Kindergarten and Year 1 have three hours and Years 2 to 4 have one hour per week. By Year 6 students are working bilingually at an age-appropriate level.
From age 11 to 15, students begin getting familiarised with the teaching methods of Secondary School and preparing for the French national diploma (DNB). All throughout Junior Secondary School, students delve into important subjects that they have touched on briefly in Elementary School. The curriculum in Junior Secondary School is intense but varied, and our teachers are all specialised in their areas and subjects.
2.  Telopea Park School / Lycée Franco-Australien de Canberra & Narrabundah College
Telopea Park School, Le Lycée Franco-Australien de Canberra took its first students in 1923. Since 1983, it has been a binational French-Australian school, established as the result of an agreement between the Governments of France and Australia. The agreement sets the parameters within which the school operates.
In the primary section, the school provides a bilingual education from Kindergarten to Year 6. All students learn to speak, read and write in French and English. The bilingual program continues in the Secondary part of the school to Year 10 and to Years 11 and 12 at the nearby Narrabundah College. In the secondary section, there are two streams : the French stream and the English stream (forming a normal ACT high school). The French Stream provides instruction for the Brevet examinations in year 9 and the Australian stream an educational program meeting the requirements of the ACT. In the Primary, the curriculum is a harmonised French-Australian curriculum. The French curriculum has been adapted to take into account local requirements but still conforms with the programs and official instructions of the French Ministry of Education. In the same way, the Australian curriculum has been modified to take into account French requirements but also satisfies the requirements of the ACT Education Directorate.
At Telopea Park School, the students also come from a diverse range of cultural backgrounds, well over a third of the students were born outside Australia and a fifth of the students speak a language other English at home. About 12 % of the students come from France or French-speaking countries.
Why do the French baccalaureate in Australia?
First of all, research shows that bilingual learning is not only cognitively beneficial and critical in the development of language capabilities, but that it also teaches values and beliefs that enhance intercultural understanding and global awareness. French in particular is a very useful language to learn, it is spoken throughout the world and is one of the most useful languages to know in the world of business. For more reasons to learn French, visit the website of the French Ministry of Europe and Foreign Affairs.
The French Baccalaureate is an internationally recognised diploma that is often considered a reference when evaluating general cultural knowledge, critical thinking, and academic progress. It is an all-encompassing, adaptable, and demanding pre-university programme. It is said to be all-encompassing because it includes humanities studies (literature, philosophy, foreign languages), science, sport, and a wide choice of elective subjects in the fields of science and mathematics, social sciences or language and literature. The programme is adaptable as it offers students the possibility to choose their elective subjects as of year 11. For example, a student in year 11 could decide to discontinue studying mathematics while another, through his or her electives and options, could choose to study up to 9 hours of mathematics per week. It is a demanding programme with students reaping the benefits; students are expected to acquire, organise and express in-depth knowledge to develop their critical thinking skills necessary as they become informed and active citizens of society.
The baccalaureate offers an excellent conversion rate in the ATAR system and is recognised by universities across the globe, students who obtain the diploma can continue their studies almost anywhere in the world. While many students choose to pursue tertiary studies in France, others go on to study in Australia, Canada, Switzerland, the United States, and the United Kingdom.
This July, discover a broad range of francophone films for free thanks to the SBS on Demand.
Here is our July selection, we hope that you enjoy them!
The Godmother / La Daronne (2020)
Genre: Comedy
Director: Jean-Paul Salomé & Hannelore Cayre
Cast: Isabelle Huppert, Hippolyte Girardot, Farida Ouchani, Liliane Rovère, Iris Bry, Rebecca Marder, Mourad Boudaoud, Jade-Nadja Nguyen
The film follows an underpaid, overworked French-Arabic translator in charge of phone surveillance for a narcotics police unit who uses her insider knowledge and resources to build her own crime network.
To avoid spoilers we won't say any more!
La Daronne is based on writer Hannelore Cayre's novel of the same name. The novel won the 2017 prix du polar européen as well as le grand prix de littérature policière.
The film adaptation was nominated for the 2021 César award for best film adaptation.
Watch it on SBS on Demand here.
Kirikou et Les Femmes et Les Hommes / Kirikou and the Men and Women (2012)


Genre: Animation
Director: Michel Ocelot
Cast: Romann Berrux as Kirikou, Awa Sene Sarr as Karaba, and Sabine Pakora as the strong woman
The third film by celebrated French animator Michel Ocelot, Kirikou and the Men and Women follows the exploits of the irrepressible young Kirikou, a feisty infant with a big heart. In this story, he uses his wits to save his fellow villagers from a host of problems, including the threats of an evil sorceress. Told through the eyes of Kirikou's grandfather, the Wise Man who lives in the Forbidden Mountain, the stories mix mythology, fable, and humour to teach essential life lessons about courage, self-belief, and tolerance.
Kirikou and the Men and Women was nominated for the 2013 César Award for Best Animated Film.
Expires 5th of July!
Watch it on SBS on Demand here.
Gainsbourg (2010)
Genre: Biography
Director: Joann Sfar
Cast: Eric Elmosnino, Lucy Gordon, Laetitia Casta, Doug Jones, Anna Mouglalis, Mylène Jampanoï, Sara Forestier, Kacey Mottet Klein, Razvan Vasilescu, Dinara Drukarova, Philippe Katerine, Yolande Moreau, Deborah Grall
The film follows the notorious musician Serge Gainsbourg from his upbringing in Nazi-occupied France to his rise to fame, various high-profile love affairs, and later experimentation with reggae in Jamaica. The film includes many of Gainsbourg's most famous songs, which serve as the film's soundtrack and often as plot elements themselves.
The film won three César Awards, including Best Actor for Eric Elmosnino, and was nominated for an additional eight.
Watch it on SBS on Demand here.
Navigating "Joie de Vivre"
with Harriet Welty Rochefort
The French may often look glum, but there's far more to their joy than meets the eye. This week, Emily is joined by author Harriet Welty Rochefort. She's here to explore why it's not ironic that we've borrowed this phrase from the French: joie de vivre.
The Tour de France 2022 will start not in France but in Denmark
The Tour de France Grand Départ (the great departure) will be not in France but from Copenhagen in Denmark this year. This first day of the race is known as the Grand Départ (the great departure).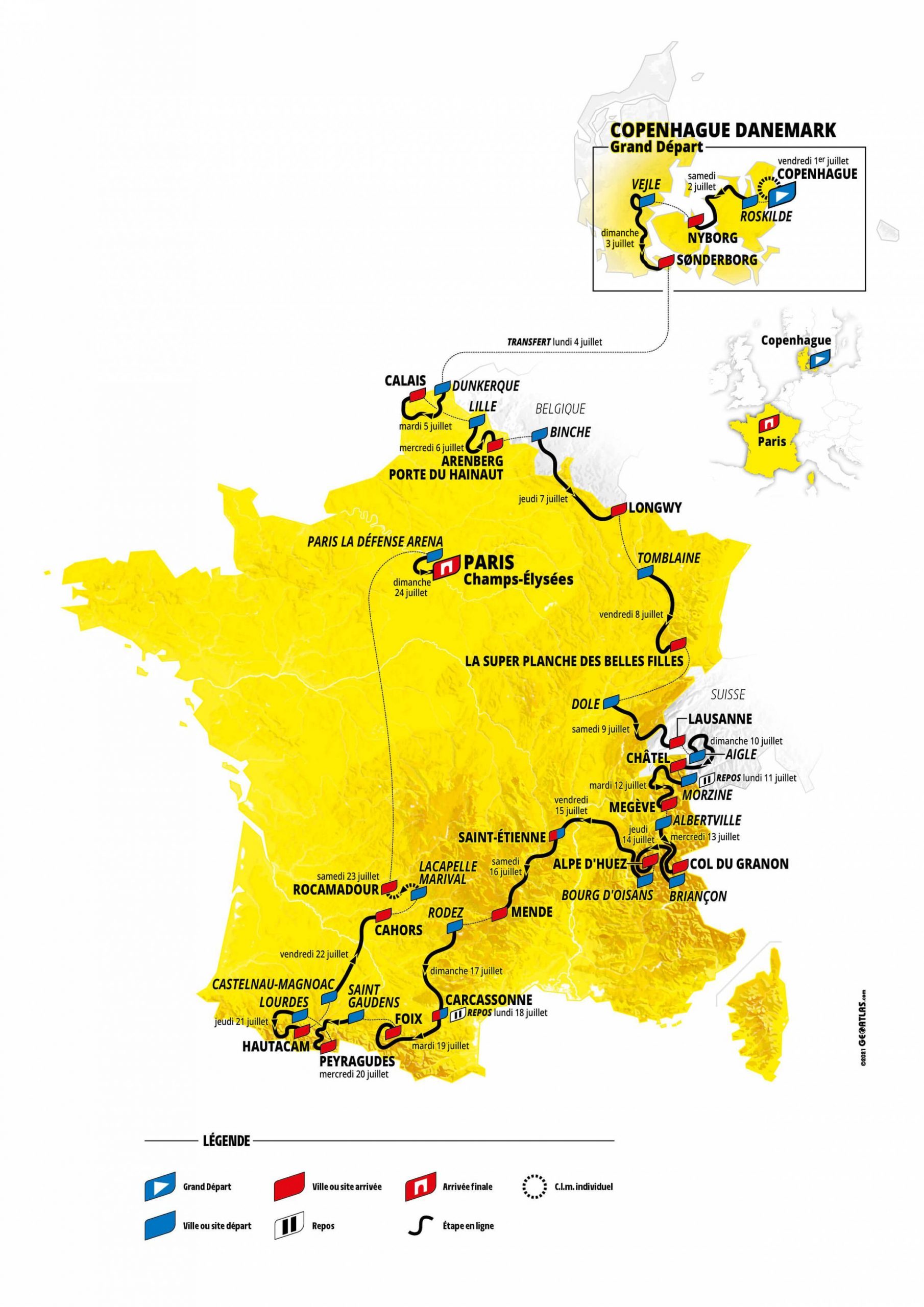 What is the Tour de France?
In short, it's an annual cycling race throughout France held over 23 days: 2 are rest days, 21 are cycling days. For each of the 21 cycling days of the Tour de France, male competitors cycle from one town onto another, in what are known as étapes (or stages in English). There is also a women's counterpart: the Tour de France femmes which takes place over 8 days in late July.
The Tour de France is the French counterpart to two other cycling races in neighbouring countries: the Giro d'Italia and the Vuleta a Espaňa.
The Tour de France is the most followed competition in the world after the Olympic Games and the World Cup! It is broadcast in 186 countries on 121 TV channels. 
How long has the Tour de France been running?
It all started almost 120 years ago. The first Tour de France was held in 1903. The only thing to stop the race from going ahead were the two World Wars. There was no Tour de France in 1915-1918 and from 1940-1946. The COVID pandemic didn't end the race – it just stopped the cross-border aspect to it.  
What does the winner get?
Apart from the maillot jaune (yellow jersey), the winner also takes home a cash prize.  
But why is a French race starting in Denmark?
Since the 1970s, the Tour de France has started in other European nations. Hosting the Grand Départ has become highly sought after with many cities bidding to host the event. It's a win-win, cities who host the race benefit from increases to economic activity as well as cycling in the area and the Tour de France gains a new audience in a new country. 
As for why Denmark was chosen, it's an international city known for its environmental conscience. 9 out of 10 Danes own a bicycle and Denmark is billing itself as the land of cycling. Denmark has about 12,000 km of bike routes and bike lanes. Every weekday in Copenhagen, the 673,000 bikes in cycle the equivalent of 400 editions of the Tour de France!
Where have other Grand Départs left from?
During COVID-19 the Tour de France went ahead but without the cross-border element. The 2020 edition departed from Nice in Provence-Alpes-Côte d'Azur and the 2020 edition from Brest in Brittany.
Netherlands, Belgium, West Germany (as it was known at the time) and even the United Kingdom have each hosted the Grand Départ a few times. Spain has to date only held it once when it departed from San Sebastián. Dublin in Ireland also hosted the Grand Départ in 1998. Denmark is the first Nordic country to host the Grand Départ.
Where does it finish?
It may leave from different places and follow a different route each year but the Tour de France always, or at least since 1975, finishes its final stage, stage 21 on the Champs-Elysées. 
Where does the race start in France?
In 2022, the Tour de France will start its French leg with stage 4 on day 5 in Dunkerque. You can see the complete list of stages on the official Tour de France website www.letour.fr/en by clicking on "ROUTE" on the left hand-side. 
Why is it le Tour de France when it's la Tour Eiffel?
Because the word "tour" has two different meanings. In Tour Eiffel it means "tower". In Tour de France it's a "tour" of France. 
Where will the Grand Départ be next year?
Bilbao in Spain's Basque country has been selected for the 2023 Tour de France Grand Départ.
When does the Tour de France 2022 start?
This year's Tour starts in Copenhagen on 1 July and will conclude on the Champs-Elysées on 24 July. The tour de France femmes starts in Paris that same day. 
How to watch the Tour de France 2022 in Australia
SBS Australia is the Australian official broadcaster of the Tour de France and will have nightly coverage of the stages. 
Key Vocabulary for Le Tour de France:
Échappé a breakaway rider – someone who has broken away from the peleton (see below) 
Équipe team (each has 9 cyclists)
Étape a stage of the race
Grand Départ (the great departure)
Maillot jaune  the yellow jersey – worn by the overall leader of the race
Parcours route
Peloton – the main group of cyclists – comes from the French word originally meaning small ball
Tête de course – the leader for that stage/day
A special video from Jack Lang,
the French minister behind La Fête de la Musique
Jack Lang served as French Minister for Culture from 1981 to 1986 and again from 1988 to 1993, he is best known for creating La Fête de la Musique in 1982.
For those who are not familiar with it, La Fête de la Musique is an all day public music festival which occurs yearly on the 21st of June in France, and throughout the world.
En Français:
Bonjour chers amis de l'Australie
Merci d'être presents.
On m'a demandé de dire quelques mots à propos de la fête de la musique.
C'est une idée qui m'es venue à l'esprit il y a une quarantaine d'années, j'étais ministère de la culture du president François Mitterrand. Nous avions engagé une politique ambitieuse et puissante, et forte en faveur des arts et de la culture en France et hors de France et je me suis dit qu'il serait bon que les citoyens soient eux memes impliqués dans une telle aventure culturelle. Je pensais donc qu'un événement autour de la musique, toutes les musiques, permettrait de rassembler beaucoup de gens. Je proposais simplement que le 21 juin, qui est le jour de l'été, les citoyens musiciens amateurs ou professionnels descendent dans la rue et à chacun à sa manière fasse un petit concert ou un chorale, chante, un peu partout a travers le pays. Et finalement, cet appel a été entendu, des centaines de milliers de gens du nord au sud, de l'est a l'ouest sont venus exprimer leur passion de la musique.
Ce qui est très intéressant c'est que cet événement après quarante ans est devenu réellement dans la tête et le coeur des gens une sorte d'institution. Aucune loi ne l'a crée, aucun décret ne l'a imaginé, ce qui fait qu'aujourd'hui cet événement est là  c'est qu'il est dans la tête et dans le cœur des gens. C'est comme s'il faisait partie d'un rite annuel auquel ils participent avec bonheur et avec joie et ce qui est évidemment remarquable aussi est que l'événement a traversé les frontières. J'ai peine à croire que ce soit arrivé jusqu'en Australie! C'est-à-dire à l'autre bout de la terre pour nous français. Et j'aimerais tellement être avec vous dans ce beau pays qui est le votre. J'aimerais tellement ressentir ces moments de festivité, de bonheur et de rencontre. En tout cas, je vous adresse mes voeux très chaleureux, vous fêterez la musique avant nous, quelques heures avant nous et nous seront inspirés par votre exemple pour faire que la 40ème edition de la fête de la musique soit la plus belle, la plus brillante, la plus drôle, la plus sympathique et la plus chaleureuse.
Merci et et j'espère à un jour en Australie.
In English:
Hello dear Australian friends, thank you for being here.
I have been asked to say a few words about La Fête de la Musique.
The idea came to my mind about forty years ago. At the time, I was minister for culture under the president François Mitterrand. We had launched an ambitious and powerful policy strongly favouring the arts and culture in France, and abroad and I thought that it would be good if citizens themselves were involved in a cultural adventure of this ampler. I thought that an event around music, all types of music, would enable us to bring a lot of people together. I simply suggested that on the 21st of June, the first day of summer, musically inclined citizens throughout the country, whether they be amateurs or professionals, go into the street and do as they wish, perform, form a choir, or sing. The call was heard, and hundreds of thousands of people expressed their passion for music, from north to south, and from east to west.
What is very interesting is that after forty years, this event has truly become something of an institution in people's hearts and minds. No law created it; no decree invented it. This event is still here because it is in the hearts and minds of the people. It's as if it were part of an annual ritual that people participate in with joy and happiness. What is also remarkable is that it has crossed borders, I can hardly believe that it has reached Australia, the other side of the world for us in France.  I would love to be there with you in your beautiful country, I would love to experience the festivity, the happiness, and the joy of meeting others with you. Either way, I give you my best wishes. You will celebrate La Fête de la Musique before us, a few hours before, and we will follow your example to make the 40th edition of La Fete de la Musique the best one yet, the most successful, the most fun, and most welcoming.
Thank you and I hope to see you one day in Australia!
Celebrating the 40th anniversary of the
Fête de la Musique
in Australia
Make Music Day
To celebrate the 40th anniversary of the Fête de la Musique, the French Embassy in Australia partnered with the General Consulate of France, Creative NSW, Phoenix Central Park, the MCA,
the Powerhouse Museum, the Mosman Art Gallery, Avenue on Sussex, Four Frogs Créperie, and Ondine offer a free musical program in Sydney and Canberra on June 21st 2022. 
This unique event will present 14 musical ensembles of all levels, amateur and professional, of all genres, ranging from lyrical singers and Arabic choirs to batucada and ukulele players, and in 8 different types of venues, from museums and art galleries, to corporate buildings and restaurants. 
The philosophy of this French tradition is to support young and emerging local talents by giving them the opportunity to perform in high-quality venues open to the general public. Australia will get the ball rolling by being the first of 120 countries to start celebrating this worldwide event. 

Program of The French Embassy in Australia – 21st of June
12:00 PM – 1:45 PM – Powerhouse Museum – 500 Harris St, Ultimo NSW
Lili Alaska – Indie/Pop/Rock
Nathan Kula – Indie/Pop/Rock
12:30 PM – 1:45 PM – General Consulate of France – 31 Market St, Sydney NSW
John L'Estrange – Lyric Tenor
D Verse – Soul/Jazz/Latino
2:30 PM – 4:00 PM – Museum of Contemporary Art – 140 George St, The Rocks NSW
John L'Estrange – Tenor
Ghada Daher-Elmowy – Arabic Soprano
3:30 PM – 6:00 PM – Avenue on Sussex – Shop 1A/201 Sussex St, Sydney NSW
Three bands from Rose Bay Secondary College
5:00 PM – 6:30 PM – General Consulate of France – 31 Market St, Sydney NSW
Jérémy Cangemi – French chanson
Debie Mayson – Folk/Pop
Olive Diaz – Jazz
7:30 PM – 7:50 PM – Four Frogs Crêperie Circular Quay – 1 Macquarie Pl, Sydney NSW
6:30 PM – 7:15 PM  – Phoenix Central Park – 37-49 O'Connor St, Chippendale NSW 2008
7:00 PM – 7:30 PM – Ondine – 7 Duff Pl, Deakin ACT
7:30 PM – 8:10 PM – Mosman Art Gallery – 1 Art Gallery Way, Mosman NSW
8:15 PM – 9:00 PM – Phoenix Central Park – 37-49 O'Connor St, Chippendale NSW
For those eager to start early, the Sydney Music Fest will celebrate the Fête de la Musique on June 19th at St Paul's Catholic College in Manly
The national program can be found on Creative NSW's Make Music Day Website. 
About The Fête de la Musique
In 1982, Jack Lang, French Minister for Culture at the time, dreamed of a national day where FREE music would be everywhere, all around the city: street corners, parks, rooftops, gardens, and storefronts. Amazingly enough, this dream came true and this year marks its 40th anniversary! 
The Fête has turned into a true national holiday. On the 21st of June, Paris shuts down during the summer solstice and musicians take over. In France, almost 5 million people have played an instrument or sung in public for the Fête de la Musique, and 120 countries around the world have now joined in to celebrate music in all its forms, encouraging both amateur and professional musicians to band together and celebrate music in their community.
Partnerships
The French Embassy in Australia is proud to work with organisations whose contribution was key to the organisation of this event:






Make Music Day is supported by the NSW Government through Create NSW.
Contact
For more information:
Rim Bohle
Head of Press and Communication
French Embassy in Australia
To interview the artists: 
Aliénor de Thoisy
Project Manager
French Embassy in Australia
For more information about the national Make Music Day program:
carly.pickard@creative.nsw.gov.au
Carly Pickard
Manager, Strategic Projects & Engagement
Creative NSW
Lissom | Artist of the month for June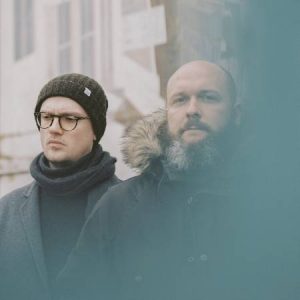 Referenced by Billie Eilish, featured in several TV series on Netflix, Amazon, and the American network CW, and gathering millions of streams every year,
Lissom's debut album took the world by storm…and this year they are back with Éclipses!
Lissom is the collaborative project of French pianist, composer and producer Julien Marchal of SLUMB and the British singer, songwriter and producer Ed Tullett – who is also the singer and co-songwriter of the band Novo Amor.
Forced to be apart, Lissom's efforts to connect, the loneliness and hardships they faced while combining their skills in this new album are reflected in the music through the melancholy notes and serene lyrical insights that imbue Eclipses.
Their eponymous debut album Lissom saw instant success in 2018. Billie Eilish made a reference to it in an interview for VICE, saying Lissom would be the album playing on repeat if she was travelling with her headphones on.
The songs 'Doppelganger', 'Limbo' and 'Mascaron' were featured in the TV shows 'The Republic of Sarah', 'Magnum P.I.' and 'The Blacklist' from 2019 to 2021.
One And The Same

The new album has been met with a flurry of positive reviews just days after its release, the very first review by Benjamin Berton featured in Sun Burns Out magazine:
"The critics can go dress themselves on this one. It's the ear that speaks or at least listens and thinks on our behalf. Eclipses is a remarkable album, an album with wings." 
Lissom continues to attract a growing international audience, with over 300 000 monthly listeners on Spotify; London, Sydney, Melbourne, Los Angeles and Chicago claiming the top five cities with the most Lissom listeners.
Giveaway Competition
Subscribe to the newsletter for a chance to win a copy of the album on CD!
Competition ends 30.06.2022 – 8pm AEST
The 69th Sydney Film Festival
Explore French cinema this June!
Between Wednesday 8th and Sunday 19th of June, catch the chance to watch the latest, greatest, and most exciting movies cinema has to offer. Be a part of a rich program of inspiring and entertaining premieres, talks, and parties.
The Sydney Film Festival takes place at its flagship venue the State Theatre, as well as other cinemas in the CBD, Newtown, Cremorne, Randwick, Western Sydney, and more. 12 films are selected for the Official Competition,
which celebrates "courageous, audacious and cutting-edge" cinema with a $60,000 cash prize.
Browse award-winning films
Explore the incredible Official Competition, with 12 films competing for the highest award in the Festival, as well as the latest announcements for new screenings of award-winners fresh from Cannes.
Save with Flexipass!
Save up to $210 by buying a Flexipass of 10, 20, or 30 tickets which can be shared among friends.
RETURN TO SEOUL
Enjoy this moving and delightful story about a young French woman's quest to discover her roots.
INCREDIBLE BUT TRUE
See this bizarre yet charming film straight from France, directed by absurdist Quentin Dupieux.
THE TASTING
Experience this charming romantic comedy adapted from the award-winning stage hit by writer-director Ivan Calbérac.
TRIANGLE OF SADNESS
Winner of the Cannes Palme d'Or 2022, see Ruben Östlund's hilarious satire about a motley crew on a luxury cruise captained by an alcoholic Marxist.
STARS AT NOON
See this steamy, erotic feature – and Grand Prix winner at Cannes – from acclaimed director Claire Denis.
THE NIGHT OF THE 12TH
Direct from Cannes, experience a perfectly crafted atmospheric police procedural set in southern France, based on true events.
ONE FINE MORNING
Winner of the Europa Cinemas Label Award for Best European film at Cannes is Mia Hansen-Løve's latest film, a delicate, heartfelt story of familial and romantic connections.
PASSENGERS OF THE NIGHT
Starring Charlotte Gainsbourg, this warm family drama is set in 1980s Paris – a time of vinyl LPs, political optimism, and talkback radio.
ONE YEAR ONE NIGHT
Starring two of the brightest stars of French cinema, Noémie Merlant and Nahuel Pérez Biscayart play a hipster couple coming to terms with surviving the 2015 Paris attacks.
LA DANSE
Described by New York Times as "One of the finest dance films ever made," Frederick Wiseman, master documentarian reveals the on and off-stage dramas of one of the world's greatest dance companies, the Paris Opera Ballet.
The Picasso Century Exhibition
National Gallery of Melbourne
10 Jun – 9 Oct 2022
This winter, discover the artworks of Picasso and that of his peers including Salvador Dali and Georges Braque. The exhibition holds great significance as one of the most ambitious projects of Australia's oldest and most visited art museums, the National Gallery of Melbourne (NGV). A project of Franco-Australian collaboration bringing together Le Centre Pompidou, Le Musée National Picasso, and the NGV, the exhibition celebrates the career, context, and network of Picasso.
Watch the official NGV video in which the exhibition is presented by key actors Didier Ottinger, deputy director of the Centre Pompidou,
Dr. Miranda Wallace, senior curator of international exhibition projects at the NGV, Cécile Debray, president of the Musée National Picasso, and Tony Ellwood AM, director of the NGV.
About the artist
Picasso is regarded as one of the most influential artists and best-known figures of 20th-century art and his long and fruitful career as an artist spans almost 80 years. Picasso left his mark on the art world, notably by co-inventing the Cubism movement. One of his most famous cubist pieces is Les Demoiselles d'Avignon.
More about Cubism here.
Although Picasso was Spanish by birth, it is said that he was "French at art" (The Guardian). Moving to Paris in 1904, Picasso spent most of his adult life in France. He learnt about art history by visiting the Louvre and was influenced by fellow artists Henri de Toulouse-Lautrec, Edgar Degas, and most of all, Paul Cézanne. He encountered the Surrealist movement in Paris, and was inspired by the people, landscapes, and culture.
Book tickets to the exhibition
So you're ready to return to France? Moi aussi!
Planning ahead in Paris can make for a calm vacation with all your bucket list ticked!
Lately I've been hearing more and more from Loulabelle's FrancoFiles listeners that they are making plans to head to head back overseas and to France!
It's been such a long time since many of us have travelled that I thought an episode about travel tips to refresh our memories would be une idée fabuleux!
Below is a list of things I always consider when planning a vacances en France…
1. COVID 
Across the world there are changed travel conditions that differ from country to country and may even change from month to month or in some places week to week! So of course the first thing to do before leaving is check the COVID compliance matters such as testing prior to flying, isolation, vaccination, etc.
2. Accommodation style
One of the first things to think about when in the planning stage of your intended holiday is whether you wish to stay in a hotel or an Airbnb. I love Airbnbs as I feel for a moment like I'm living like a local. Also when staying on extended trips it's nice to be able to cook a meal and eat like we're at home as well. I actually find it fun in France to go to the petit supermarché and buy local brands of things that differ from what we can get in Australia and then make a meal with those.
So whilst we can't cook for ourselves in hotels, there are other great reasons for staying in them. If your French language skills are more on the beginner side, a hotel can provide a terrific resource. When travelling alone some tourists find having a concierge is a great safety measure as is an in room safe. But for me, I always stay in a hotel on my last day when I have a late flight departure back to Australia, as a hotel gives me a place to store my luggage for the last day of sight-seeing and while I'm out and about.
3. Time saving, skip the queue and crowds
The Paris Pass gives entry into loads of Paris attractions that are certain to be on any Francophile's bucket list, but the best thing is that with the Paris Pass there's no need to queue to get in to the museums or attractions and you can just walk right on through! When staying in Paris for a few days or a week, most people don't wish to spend much of that time lining up! It is important to purchase the pass before you depart for your trip.
Now there are some places you will not be able to avoid a queue and a little bit of a wait, but there are ways to reduce that wasted time. If going to the Eiffel Tower, booking a guided tour that is in the Paris Pass will help reduce waiting time, but if going up the tower in the usual way, getting there first thing in the morning before the crowds is a great idea.
Another place that has loads of crowds inside is the Louvre, especially around the Mona Lisa. I have always found the Louvre to be extremely quiet around 5.30-6pm on a Friday night so it is worth checking the evenings that it is open during your Paris stay and planning your visit then.
The Palace of Versailles is also a place that attracts hordes of crowds, but you will find it pays off to get there early as even with the Paris Pass you will be required to queue here. On each visit I have arrived a good half hour before opening to go to the ticket office and get my tickets with the Paris Pass and then head to the queue. An extra tip for visitors to Versailles, you might want to set aside a whole day to visit. In addition to the palace there are the Grand Trianon and Petit Trianon to see. These are the summer houses for the king and queen and are exquisite and well worth extending your visit to see.
Now the Paris Pass used to send to your home address prior to departure all the required cards that you need to show to be admitted at attractions as well as a little guide book of all that's on offer, but now it has changed to an online arrangement. I'll let you all know what I think of this later in the year when I have been back to Paris try it out, but so far I'm a little disappointed. Mainly as now to get the pass for access to the museums, there are two separate parts to the pass, one for museums and one for other attractions, it is now necessary to visit their office in one spot in Paris. This will cut a little chunk into the schedule and might be worth factoring into the itinerary.
4. Shopping and taxes
On each trip to Paris when I have used the Paris Pass there has been a treat on offer at the Galleries Lafayette specifically for Pass holders. Last time it was a tote bag which I still use every day! A little advice for shopping at the Galléries Lafayette, as a foreigner heading back to Australia, we can claim the tax back on our purchases. It is a little complicated and I have not often got the process sorted successfully, but for a start it will help enormously if you remember to take your passport with you when shopping there as it will be needed to submit the tax claim forms. It can really add up if making a number of purchases so it's worth doing, but it is a fiddly process, so ensure you check out what's required before starting your shopping.
5. Sim cards with unlimited data
My number one tip for travel to France in the era of requiring data! If you seem to have issues with sim cards when you travel like I do, even the ones I have purposefully purchased online for the trip, then this is a tip pour toi! On one trip I spent days on end phoning from a hotel phone to the supplier to get it to work, only to end up going and purchasing another sim locally. But on subsequent visits I have always gone straight to the Tabac next to "Esmeraldas" just across the road from the back of Notre Dame facing the Seine. I buy a sim there that is for a number of weeks for use just in France. I actually take my regular sim card out on the flight to France and just use wifi when I get to Paris in the airport until getting the new sim which has unlimited data to use anywhere in France. Unlimited data is priceless in this online world! Using data I can make calls to home via apps like Facebook Messenger, I can look up travel details on the internet and can check emails or any other online needs that are accessed on my phone. There's no need for a phone number as I just use all my own apps on the phone with the sim providing the data.
6. Itineraries
It is not common that people travel as a tourist to Paris on their own. I have a couple of times but then some people might suggest I'm just a little bit obsessed! It's important if you want to make the most use of your time, to set up an itinerary of sorts while still at home. But if the style of vacation is one of laid back immersion, perhaps locking into an itinerary is not so important for you. Often tourists will be travelling with a partner or a group of family and friends, so I suggest especially if this might be your once-in-a-life-time trip, getting everyone's top 3 or even top 5 things they must do in Paris. Then it can be beneficial to group those attractions into arrondissements so you're not going backwards and forwards from one side of Paris to the other everyday! Your travelling group can spend the day or even just a morning or arvo in the one arrondissement and checkout all the things on the bucket list for that area. This makes most use of time but also leaves tourists feeling less exhausted with less travelling.
It's important to keep the itinerary flexible in some ways to account for rainy days, or other last minute required changes, but there will be bookings you may make prior to the vacation that will need to be factored in and worked around.
7. Planning for regional France
Consider the length of time you are intending travelling through regional France. Is it a short quick trip to one region or are you spreading your time over a few months? What season are you travelling in? Do you prefer the heat or like me are you a fan of cold crisp days? If travelling over some time and across France, think about whether to start from the south and finish in Paris or vice versa. So for example if travelling in spring through March, April and May and if you're not crazy about the heat, you might wish to start your trip in the south of France where it's milder in the spring and head north or into the mountains as the months heat up getting closer to summer. Your chosen fave temperature can be a big factor in deciding what region is right for you at various times of year.
8. Car hire, train or a bit of both?
For Aussies or for other countries where we drive on the left of the road, driving in France might seem like a stressful matter but it doesn't have to be. I haven't driven in Paris and I don't necessarily recommend that as it is incredibly busy compared to Australia, but in the country side there is the space to get used to the opposite way of driving. Once you stop trying to get into the passenger seat to drive which I've done more than once!
Now to get out of Paris I almost always catch a train. The TGV is so quick and the train links in France are very efficient. Gazing out over the French countryside is very therapeutic during a vacation too. Make sure you are early for your train from Paris, and stand on the platform in line with the carriage written on your ticket. At some platforms the corresponding carriage letter will be marked on the ground. Then getting onto the train is something that needs a bit of forethought. The passengers all getting on will clamber for the luggage stow section near the door all at the same time! If you're not one of the first on you will need to store your luggage in another carriage which could be half way down the train! I prefer to keep my luggage where I can keep at least half an eye on it so I ensure I'm on board swiftly to get luggage stowed and then into my seat! If catching a connecting train the disembarking and re-boarding process can sometimes be crazy busy too, so be prepared to move swiftly! When travelling with some girlfriends to the Dordogne some years ago we caught the TGV from Paris to Bordeaux and then another train from Bordeaux to Bergerac. The changeover between trains was 3 minutes! It was stress city as we had to change platforms and there wasn't a lift to help us with all our luggage! This could have been made easier if we had closely checked the amount of time between connections on the ticket. We had no idea how it all worked back then!
It's hard to travel to more places than villages with a train station if you don't have a car in the French countryside. When hiring a car I recommend not choosing the big roomy option as it could be a challenge getting through some of the narrow laneways in the ancient villages. In saying that it's important to not go too small or you won't fit in all your luggage, so with car hire I always do a bit of a Goldilocks and go the middle size which is just right! I've mentioned a couple of times before that extra care should be taken when hiring cars from railways stations. Some towns have more than one station so always double check the actual address of the car hire against the station on your ticket and pay particular attention to the names as they can be quite similar. Lastly with car hire, check out the car parking situation when booking accommodation as even though there is lots of space driving through the rolling hills, little country villages can be tightly packed. It's part of their charm, but it doesn't result in lots of car storage options!
9. Les Plus Beaux Villages de France
I have discussed the Plus Beaux Villages de France a few times on the Loulabelle's FrancoFiles podcast and that's because they're just so wonderfully exquisite! I have been to a few and each visit was like stepping into a dream! The Plus Beaux Villages de France are select villages that have been designated amongst the most beautiful in the country. Each of the villages must meet certain criteria which is fairly strict. There must be rural character with no more than 200 inhabitants and there must be at least 2 national heritage sites. The local council needs to approve the application to be a Plus Beaux Village and an on-site evaluation has to take place. It really is quite rigorous, but the result is a list of some extraordinary villages across the whole of France.
10. Other considerations for choosing villages/regions
When deciding which regions or villages to visit, there are a few other considerations:
Do the market days in the village coincide with your visit?
Checks dates for local festivals to ensure you don't miss out if local country festivals are your thing, or so you can avoid them if they're not!
Book ahead for tours and special local knowledge sessions such as wine tours, special lunches or cooking days and work the rest of your regional stays around them.
11. Start the immersion before you leave home!
When starting planning for a trip to France, try and get your French immersion kicked off at home. I have interviewed a few French teachers here on the podcast in Australia and in France who offer different types of French lessons in varying formats. Even watching French movies or television or listening to French music can started getting you connected. I have a fabulous Spotify playlist of French music that will definitely get you started. I have compiled it from the suggestions of all the podcast guests and today I am going to add my latest fave that I will have playing as I pack my suitcase for Paris this year!
Musique:
Maison en Papier Guilio Cercato (vocals by Victoria Richard)