Fête de la Musique 2022 –
Hop on French-Australian Chris Cody's enthralling musical voyage: Astrolabe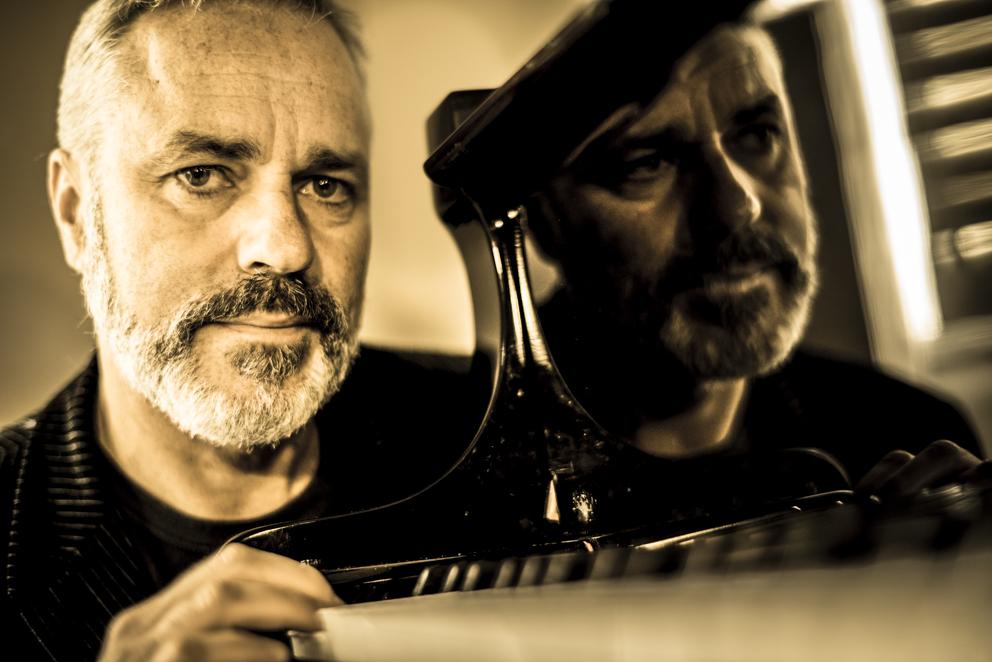 To celebrate the 40th anniversary of the Fête de la Musique, French-Australian international pianist and composer Chris Cody will perform his splendid jazz suite Astrolabe on June 21 at 6:30PM and 8:15PM.
The Phoenix Central Park will generously host this memorable performance in partnership with the French Embassy in Australia.
About the artist
Four stars: fascinating…an exotic soundscape…exceedingly gifted
– The Australian
Enthralling tribute to French explorer…startlingly effective music
– Sydney Morning Herald
Internationally renowned pianist and composer Chris Cody has headlined at many international festivals including Paris Quartiers d'Eté, London, Rome, Brussels Jazz Marathon, Stockholm, Geneva, Munich, and Derry, and at a vast array of major concert venues throughout the USA, Europe, Africa and Australasia.
With eleven CDs of his music released on international labels he has received glowing reviews and featured on radio and television around the world, and has collaborated on over forty other international albums.
His compositions include commissions for the Australian Music Centre Paris, the Sydney Theatre Company, American Academy of Dance, Pillow Book Dance Company Pittsburg, National French and American theatre companies. He has also composed the music for eight films, winning prizes at Toronto, Pau and Sydney festivals, as well as several TV and Radio documentaries.
About the performance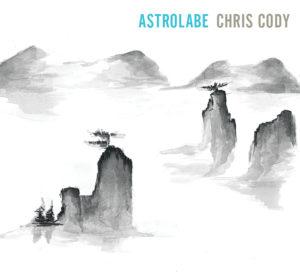 Lapérouse arrived here just six days after the First Fleet in 1788. After he left these shores a few weeks later he was never seen again, his two ships being shipwrecked near the Solomon Islands.
The incredible voyage and disappearance at sea of this French navigator has been an inspiration for Cody to write this work that explores different times and places, identity and the meetings of cultures.
The powerful and moving music draws upon jazz, classical and diverse world music influences inspired by the voyage. There is plenty of space for the musicians to open up and improvise over the different moods, textures and styles, ranging from calm meditation to exuberant joy.
"When I first read about La Pérouse while living in France and before my return to Australia I was struck by some of the resonances of his story. The idea of mounting an expedition to further human knowledge and science, to learn about other peoples and cultures, to journey around the world, and then disappear at sea, against the backdrop of the French revolution all seemed glorious and admirable to me…
"When I first read about La Pérouse while living in France and before my return to Australia I was struck by some of the resonances of his story. The idea of mounting an expedition to further human knowledge and science, to learn about other peoples and cultures, to journey around the world, and then disappear at sea, against the backdrop of the French revolution all seemed glorious and admirable to me…
About the venue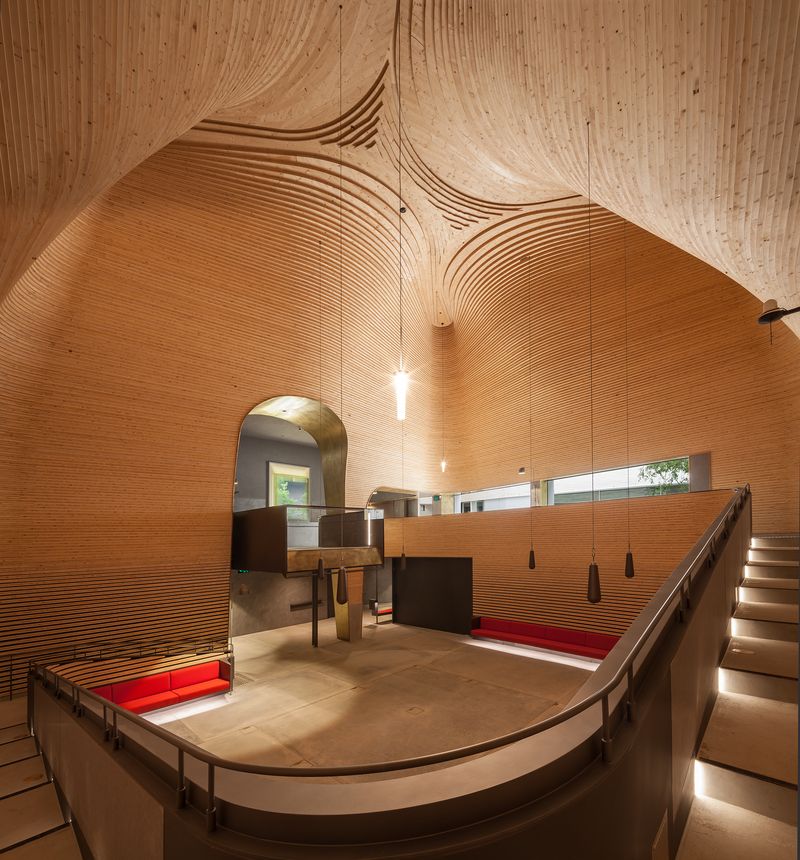 Australian philanthropist Judith Neilson envisioned Phoenix Central Park as a space in which architecture and interior design as well as the visual and performing arts would each enhance and embrace the other for an immersive total experience – a 'gesamtkunstwerk', or 'total work of art'.
Why is it named 'Phoenix'? The building occupies the site of a warehouse that was fire-damaged and vacant – but the name also symbolises the renaissance of a previously gritty, semi-industrial inner-city suburb to become a cultural hub. Phoenix Central Park rises from the ashes like the legendary bird.
The performance space is a singular bell-shaped clearing, made by stepped and contoured timber ribs, embedded in a fabric of lobbies and circulation.
Like an Elizabethan theatre, the action is in the round, seen from many vantage points. A projecting balcony loops into the volume, creating an alternate stage or viewing box. The circulation is direct or via a gracious set of stepped landings, scaled for arresting movement and inviting overview.
More details
Link to video of Chris Cody's Astrolabe here.
Link to the artist's website here.
Link to the ticket Ballot here.
TUES 21 June 2022
6:30pm & 8:15pm
Phoenix Central Park
37-49 O'Connor St, Chippendale NSW 2008
UNDERGROUND PARIS
PARIS ISN'T JUST about what's on the surface but also what lies, and lurks, beneath.
There is, of course, the Métro, the practical underground transport where some stations also showcase art,
but there's also the spooky catacombs, a sewers museum, an underground canal and caverns full of the good stuff – jazz, wine and cheese!
Extract from The Architecture Lover's Guide to Paris by Ruby Boukabou (White Owl Books). Available globally in paperback and e-book. www.rubytv.net/books or via your favourite bookseller.
Le Métro
In such a compact city, the Paris Métro is one of the most practical and popular ways to get around town (although locals are also embracing the public electric scooters and pushbikes, especially in the past couple of years). There are over 300 stations with many more being created as line extensions. Civil engineer Fulgence Bienvenüe was the 'father of the Métro', with Line 1 inaugurated during the World Fair in 1900 and the rest of the original nine lines mostly completed
by 1930. Extensions have been made ever since, with fourteen colour-coded lines, many of them being extended to Greater Paris. Escalators were introduced from 1909, and now service most stations – but often only ascending (inconvenient especially with suitcases or if handicapped). Most stations are only around 500m apart (convenient!). While most are underground, some stations are situated above ground on viaducts. While the stations are relatively standardised,
some have stand-out features including:
Cité (Line 4)
A throwback to the Art Nouveau style with round globe lighting and high arched ceilings.
Abbesses (Line 12)
The Hôtel de Ville Art Nouveau entrance moved here in 1974. Scenes of the historic countryside of Montmartre decorate the staircase (though it's the deepest station in Paris at 36m so be warned! There are also lifts/elevators').
Châtelet (Lines 1, 4, 7, 11 and 14)
This central Métro station is a rabbit warren of connecting corridors. The many entrances include a replica of an original Art Nouveau kiosk entrance, constructed in 2000.
Louvre-Rivoli (Line 1)
Opened in 1900 this station has replica Egyptian and international artworks in glass cases set against marble walls to remind you where you are!
Concorde (Lines 1, 8 & 12)
Françoise Schein's tiled walls are like a word game. Installed in 1989 to commemorate the 200th anniversary of the French Revolution, the letters reassemble the Declaration of the Rights of Man of 1789.
Arts et Métiers (Lines 3 & 11)
The interiors resemble a submarine with round portholes and rounded copper walls.
Bastille (Lines 1, 5 & 8)
Tiled walls feature colourful depictions of the storming of the Bastille, local historic scenes and people (by artists Liliane Belembert and Odile Jacquot).
Line 14
The newest and the first fully automatic line, constructed in 1998, travels from Saint-Lazare to Olympiades. The newer platforms are brighter with more space with clear tiles for the floors and higher ceilings.
Ghost Stations
There are a number of ghost stations that were either never used or have been closed, many since 1939 when France entered the Second World War. While some have been abandoned, others have been repurposed as film and tv sets
(Porte des Lilas station, as seen in the film Amélie), and homeless day shelters (Saint-Martin ghost station, situated between Strasbourg-Saint-Denis and République).
You can visit some of the ghost stations on Journées européennes du patrimoine (European Heritage Days) https://journeesdupatrimoine.culture.gouv.fr/ .
Métro 2030
Métro 2030 is the name of the scheme to create a cleaner, more modern Métro by 2030. This includes LED lighting that uses 50 per cent less energy and over €5 million a year invested in refurbishing and modernisations.
Mines and Catacombs
Two building materials that define Paris, gypsum and limestone, were exclusively mined from land beneath and surrounding the city. From as early as the thirteenth century, gypsum was mined under Paris.
It is ideal for improving the workability of soil and for building plaster, hence the name 'Plaster of Paris'. More notable is the iconic Lutetian limestone particular to this area that evokes Haussmann's Paris.
Stone was reused from abandoned ruins and in the tenth century mines were dug horizontally into the sides of hills. As scaffolding developed, the mines spread deeper and further. In the thirteenth century the city was expanding and construction often took place on mined land, causing collapses. In 1777 renovations of the tunnels began. There was the enormous task of rediscovering and identifying the locations, which they did by engraving in the tunnels
the names of the streets above.
The story of the catacombs is both creepy and fascinating: in the late eighteenth century the cemeteries were overflowing. A solution needed to be found quickly before disease spread.
The answer was found under the plain of Montrouge, the former Tombe-Issoire quarries, which at the time was outside the city walls (now in the 14th arrondissement).
The Saints-Innocents cemetery was excavated first between 1785 and 1787– it had been used constantly for ten centuries! The bones were transported by night so as not to shock the public or the Church …
The site was renamed 'Paris Municipal Ossuary' in 1786 and nicknamed the 'Catacombs', which referenced the underground burial places under Rome.
By 1809 the underground passages of the dead were opened as an attraction to be visited by appointment.
These days there are over 550,000 visitors yearly. There can be a bit of a queue, so avoid school holidays or peak times where possible – or take a book to while away the time and a coat as you'll be waiting outside.
The 1.5km circuit, lined with skulls, will take around an hour. NB: There are 243 steps. Only bags measuring less than 40x30cm are allowed and there's no coat check.
The Paris Sewers Museum
Musée des Egouts
93 quai d'Orsay, 75007
Learn the history of the sewers and the variety of machines used within them on a tour of the 500m underground passage – if you dare. Haussmann's, and engineer Eugène Belgrand's, modern sewer system transformed the city,
making it much cleaner and less stinky. A tour will help you appreciate today's relatively clean city.
Tunnel under the Bastille
The Canal Saint-Martin that connects the Canal de l'Ourcq to the Seine includes a 2km underground passage where the boats were once pulled along by workers, since it was too small for horses.
Gliding through can be somewhat thrilling, with the tunnel lit by the boat's lights and large overhead circular skylights in the brick roof. Take a boat ride with Canauxrama (www/canauxrama.com ).
Jazz caves
Attend a concert in one of the city's famous jazz basements. Go swing dancing at Caveau de la Huchette (5 rue de la Huchette, 75005), get spooked by the past while warming up with some funk or afro jazz
at Caveau des Oubliettes (52 rue Galande, 75005), or get chatting to a young saxophonist or ten at a jam session at 59 Riv' (59 rue de Rivoli, 75001).
Wine and cheese caves!
You can also have an enjoyable time underground while trying some of France's best wines and cheeses in a former royal wine cellar (Les Caves du Louvre, 52 rue de l'Arbre Sec, 75001 www.cavesdulouvre.com ).
Get tips from the expert sommeliers while you sip and take in the ambiance. Other wine bars include Frenchie (www.frenchie-ruedunil.com), La Cave de Belleville (http://lacavedebelleville.sordpress.com ) and La Cave à Michel (www.lacaveamichel.fr). 
Santé
Extract 'The Architecture Lover's Guide to Paris' by Ruby Boukabou (White Owl Books).
Order the book online via www.rubytv.net/books or at your favourite bookshop. Available in paperback and e-book. More Paris tips  from Ruby on www.rubytv.net and www.instagram.com/rubytv 
Tomboy
Film Critique by Georgie Bean
Tomboy chronicles the summer experiences of 10-year-old Laure (played by Zoé Héran), as they navigate identity on the cusp of adolescence. Laure is given the chance to redefine their self-hood after moving into a new building and introducing themselves as a boy, Mikäel, despite maintaining their identity as a girl at home.
Released in 2011, the film follows Laure/Mikäel as they form relationships in this new environment, along with exploring the tension that arises from simultaneously holding two identities that seem to be in direct contrast with one another. The film also includes scenes that capture and emphasise the beauty that resides in our everyday interactions, from a nostalgia for summer to the small instances that make up the fabric of a family. These moments of conflict and comfort are perfectly balanced, creating a rich, warm film. Viewers are able to be fully absorbed into the film as it is left undefined by genre, allowing the story to grow organically without having to fit within a certain structure.
Tomboy takes the larger questions of gender, identity, and growing up, and applies them on the micro scale, zooming in on the struggles that Laure/Mikäel goes through to appease the cultural expectations of gender on either end of the spectrum. The film provides a deep dive into their self-expression as it is judged socially by those around them. Depending on the gender they adopt, different hobbies, clothes, and friends are expected of them, a conflict that is weighed and challenged by the characters in the film as well as by its viewers. However, the film's age means it operates as more of a time capsule rather than a film reflecting the attitudes of the modern day. Since its release, large strides have been made in understanding LGBTQI+ identities, and a more common understanding of transgender and non-binary identities is present culturally. As long as the film is viewed within this context, it provides an excellent exploration of gender in an environment in which knowledge of these different identities is largely unknown, rather than the norm.
In the context of French culture, an additional layer of conflict is added within Laure/Mikäel's experiences. The French language provides little room for someone to exist outside of gender, a problem that Laure/Mikäel must tackle within the film. An obvious example of this is the suspense that arises when Mikäel's friends meet Laure's family and use masculine forms of words, exposing how there is nowhere for the Laure and Mikäel identities to coexist together in the language. At its core, the French language is dictated by gender; words are definitively divided into the boxes of masculine and feminine. Gender is ultimately an integral part of its construction. Despite strides being made more recently to provide space for people to present themselves with authenticity linguistically, such as the introduction of gender-neutral pronouns like 'iel,' the film highlights the necessity for continued dedicated efforts to introduce gender neutrality into the French language. However, while the film highlights these faults, it maintains a love for French culture. The film affectionately portrays day to day life and activities within France, from children's games to summertime activities, and viewers are given an authentic insight into the smaller aspects of French culture that can be missed in larger scale films.
Tomboy is an inherently unique story given the individuality of Laure/Mikäel's situation as they strive to redefine themselves in a new social environment. Nevertheless, the themes of identity, relationships and growing up that are drawn upon within the story create a film that anyone can connect with on an emotional level, if not an experiential one. Through examining the conflicts that occur within Laure/Mikäel's everyday life, a universal truth is brought forward: identity and self-expression are a confusing and disorientating process, and one that everyone has had to struggle through. Even if their experiences are not identical to those reflected in this story, everyone can identify with this sentiment. The audience gains a chance for reflection in Tomboy, along with an insight into the everyday experiences that comprise the lives of people in France. The film is a thoroughly emotional, insightful and impactful piece, one that is best enjoyed with an open mind.
Georgie Bean, the author of this film review, is a student of international relations and French at the Australian National University. 
A project of European origins
If France is today the beating heart of this cultural event, it is worth remembering that it is in Germany that the first event of the same kind took place. The Lange Nacht der Musen, the long night of the museums in French took place in 1997 in Berlin.
The success of the event inspired the French Ministry of Culture to create the "Printemps des musées" in 1999. French museums were invited to open their doors to the public for free on a spring Sunday.
Faced with the success of the event, France transformed this cultural event into the Night of Museums in 2005 to attract new audiences to these places of art and knowledge. The cultural event took a European dimension and many countries of the continent followed France and take part in the annual event.
The opportunity to live a different experience in museums
The Night of museums is the occasion to discover museums for free, under another eye and live an unusual museum experience. At night our senses are particularly alert, and museums can appear more intimate, the light is different from usual, the works seem more peaceful or disturbing..
More broadly, the European Night of the Museums is often an opportunity for museum teams to design new, original cultural tours geared towards young people such as scape games, celebrity appearances, artistic performances and other concerts.  are often.
Every year since 2005, an ever-increasing number of visitors and increasingly motivated participating museums contribute to the success of this offbeat cultural event.
AFRAN: The Australian-French Association for Research and Innovation
Long success-stories short… discover AFRAN, a leading scientific hub uniting talented researchers in France and Australia!
AFRAN's objective is to provide a framework, and platform, enabling cooperation, innovation and transformative thinking beyond the capacity of talented individuals. Within just a few years, the organisation has gained support from over 800 researchers and dozens of universities across Australia and France and achieved prominence.
AFRAN, an active partner for seed-funding early bilateral collaboration efforts
In 2016, Professor Frédéric Hollande from the University of Melbourne organised a workshop bringing together researchers from the Victorian Comprehensive Cancer Centre in Melbourne and the Lyon and Marseille Cancer Research Centres. This workshop focused on the study of the heterogeneity of cancer tumours to establish targeted treatments that circumvent tumour resistance. He obtained the support of AFRAN for the organisation of the workshop. Stemming from collaboration developed during the symposium, Frédéric established and became the joint director of the International Associated Laboratory with the Lyon Cancer Research Centre, giving recognition and impetus to this collaboration. Frédéric has been a member of AFRAN's executive board for a few years and is now working on the renewal of his Associated Laboratory. 
In June 2017, François Aguey-Zinsou, then Associate Professor at the University of New South Wales, successfully applied to the call for initiatives launched by AFRAN to obtain financial support for his French-Australian workshop. The workshop was organised in conjunction with an international conference on Future Energies. Today, François is a Professor at the University of Sydney, and co-director of the International Research Network FACES, a Franco-Australian collaboration network on energy conversion and storage created in 2020, bringing together 8 laboratories in France and 5 universities in Australia. He is also the vice-president of AFRAN and the co-leader of its Energy community.
In May 2018, an International Research Project led by two members of AFRAN was launched in the presence of the President of the French Republic, Mr. Emmanuel Macron, during his visit to Australia. This collaboration joins researchers from the Montpellier, Deakin, Tasmania, and CNRS universities, around the study of the occurrence of communicable cancers, with a focus on the Tasmanian devil. Today, this successful collaboration aims to expand and include laboratories from Lyon and La Rochelle.
AFRAN, a key actor in guiding bilateral cooperation policy in science and innovation 
In February 2019, AFRAN members actively participated in Franco-Australian discussions as part of 6 thematic workshops providing the framework for the intergovernmental dialogue on science and innovation cooperation. The objective of this dialogue was to facilitate the emergence of structured partnerships in areas identified as strategic for the future of the bilateral cooperation. In addition to a joint roadmap adopted by the Australian and French Ministers following this event, more than twenty agreements have been signed by the universities and research organisations of both countries.
In July 2020, AFRAN provided a submission to a call for contributions from the Australian Senate Foreign Affairs and Trade committee regarding an inquiry into opportunities to strengthen Australia's relations with the Republic of France. The AFRAN team highlighted the convergence of aspirations and challenges faced by Australia and France and provided several recommendations to address them, including the strengthening of research and industry collaborations in selected key areas, increasing support for bilateral cooperation mechanisms in the fields of higher education, and research and innovation, particularly in relation to industry. These recommendations are amply reflected in the Senate inquiry report. 
Finally, in recent years, AFRAN, which was active mainly in Australia, started to expand by forming a hub in the Pacific region, launched at the hybrid AFRAN forum hosted in Noumea in 2020 and another in France, launched at the 2021 online AFRAN forum. It is also currently working on the building of a new hub covering the Indian Ocean region. Several new scientific communities are also emerging, such as a community on bushfires and natural hazards, one on health and medical sciences, and the Alumni community that provides opportunities for those who have spent time on exchange in French and Australian universities to connect and engage through AFRAN.
The existence of this network, based on the broadening of minds and mutual aid, helps to structure and organise great initiatives, including events not directly created by AFRAN. One example is the seminar "Lessons learnt from COVID: Guiding pandemic preparedness and response" which featured two Nobel Laureates.
Learn more and enrol freely to AFRAN! Subscribe to the AFRAN newsletter, and learn more!
AFRAN is an incorporated association that aims to actively promote the development of cooperation between France and Australia in the areas of research and innovation. Today, AFRAN has more than 800 members. It organises an annual call for projects to support bilateral initiatives, and a yearly forum bringing together its members and actors relevant to a chose theme. The Association aims to provide Australian and French researchers, R&D managers, industry players, innovators and policy makers with frameworks and tools to facilitate collaboration, cooperation, innovation and transformative thinking that will link and benefit France and Australia. 
AFRAN provides 
The association has a specific interest in developing social, scientific, and economic exchanges in the Pacific region, where Australia and France share common interests. This enables the development of activities on every geographic scale between Australia and regional French outposts or with entities located in mainland France. AFRAN thematic communities cover all fields of science and represent an extensive network of experts in a broad range of key areas. AFRAN is a crucial supporter and enabler of interdisciplinary and intercultural programs to shape future growth and developments. Exchanges in the arts, cultural and educational sectors are a critical ingredient to the establishment of understanding between our countries. 
Interested in Australian-French research and innovation collaboration? Join us!
Baby et Lulu – sexy & sassy avec a French afternoon delight!
A while ago a friend told me of a très fabuleux band called Baby et Lulu based in Sydney. J'adore their music, singing exclusively en français so I decided to seek them out for a chat!
I thought why not share their loveliness that shines through beautifully in our petite podcast papotage with all our Loulabelle's FrancoFiles community!
Abby Dobson and Lara Goodridge are the sassy, talented, wonderful women behind the ARIA nominated French singing duo Baby et Lulu.
The band name came about from their nicknames as Abby is often called "Baby" and Lara "Lulu", so the name just seemed to fit!
They have been described as a sublime faux-French sensation, sexy, romantic and classic. Whenever I'm listening to their latest album, the music transports me away to France
in such a gorgeous way. In my mind I can imagine I'm in the Caveau de la Huchette in Paris in the jazz basement or somewhere just as fabulous! I just float away!
It was on a visit to Paris that they both discovered their love of the French language. Lara had a just bought a book of "naughty" French stories! Et voilà! A short stint singing together in French at a warehouse party back in Australia and "Baby et Lulu" was born! Both women had found a new love in immersing in chanson and as Abby said to me, she had finally discovered
what she wanted to do "when I grow up"!
They both seem to me to have different styles that compliment each other so well. FrancoFilers in Australia may know Abby from the terrifically successful band Leonardo's Bride
(of which I'm a huge fan!) and Lara is in another band Four Play String Quartet which is not your average string quartet but one that often makes quite a social statement
and reinvents pop at times too.
So for me, not being from France but having learnt French for many years I love to listen to French music all the time. I listen closely to the words and I think it is the constant
and repetitive French lyrics in my head that helps my fluency. I find at times now even though I'm surrounded by English here in Australia I catch myself thinking in French!
I found in my chat with Abby and Lara that I'm not alone in my obsession with the origins and root word similarities between French, English and other languages. It was quite lovely
(and somewhat of a relief!) to see that there are other odd people like me out there whose inner voice is often checking for links to make a foreign language seem familiar.
Lara actually mentioned how her father and she shared their love of French words sharing books and times discussing they French-related family history.
A lovely paternal closeness and memory to look back on for her. I love that I share a similar closeness with my dad. Very special.
Both Abby and Lara have been to France numerous times, with Abby having lived there at times over the years and I just loved hearing their memories of being there,
their ideas for a perfect day and the places they'd like to visit when we eventually get to return.
Baby et Lulu has both original and traditional French songs in the repertoire. But everything has a Baby et Lulu flavour to it. My current fave from Album Trois is Je T'ai Supplié 
which translates as I Begged You, but it has a lovely laconic feel to the music and a dreamlike quality for me. I also just love how their voices sound together in this track.
Baby et Lulu links
Musique
The most recent release from Album Trois: La Ballade De La Mer
Recette
Navigating "Culture Générale"
with Mathilde Caër
In France, intellectual pursuits are so widespread that there's a term to encompass the sorts of things folks are expected to know. It covers everything from French comic books based in Ancient Roman history to the newest cinematic masterpieces. To discuss culture générale, Emily is welcoming Mathilde Caër, a former bookseller and staff member at Paris' museum of music.
*Mathilde expresses her personal opinion and doesn't speak on behalf of the museums mentioned.
Appel aux artistes !

Chaque année, la Fête de la Musique rassemble 18 000 concerts à travers la France pour 10 millions de spectateurs et est célébrée dans 120 pays à travers le monde.
Pour célébrer le 40e anniversaire de la Fête de la Musique, l'Ambassade de France en Australie a développé un réseau d'institutions culturelles et de partenaires à Sydney et à Canberra prêts à accueillir des musiciens de divers genres musicaux pour de petits concerts.
Pour cela, l'Ambassade lance un appel aux musiciens amateurs et professionnels qui souhaiteraient se produire acoustiquement et gratuitement à cette occasion le 21 juin 2022, à une heure qui sera à déterminer avec le lieu d'accueil. Tous les concerts seront gratuits. Fidèle à l'esprit de la fête de la Musique, cet événement marque l'occasion de jouer en public dans des lieux de qualité et inhabituels.
Veuillez contacter le service culturel avant le 31 mai pour participer : culture@ambafrance-au.org
Call-out to artists!
Each year, the Fête de la Musique brings together 18,000 concerts across France for 10 million spectators and is celebrated in 120 countries throughout the world.
To celebrate the 40th anniversary of the Fête de la Musique, the Embassy of France in Australia has developed a network of cultural institutions and partners in Sydney and Canberra willing to welcome musicians of various musical genres for small concerts.
To this end, the Embassy is calling for amateur and professional musicians who would like to perform acoustically and for free on June 21, 2022, at a time to be determined with the host venue. All concerts will be free. In conformity with the spirit of the Fête de la Musique, this event marks an opportunity to perform in public within quality and unusual venues.
Please contact the cultural service before the 31st of May to participate: culture@ambafrance-au.org
Eurovision 2022
Australia & France in the Grand Final
The theme of this year's 66th Eurovision Song Contest is The Sound of Beauty.
According to Executive Supervisor Martin Österdahl: "Turin is the perfect Host City for the 66th Eurovision Song Contest."
"As we saw during the 2006 Winter Olympics, Pala Olimpico exceeds all the requirements needed to stage a global event of this scale and we have been very impressed with the enthusiasm and commitment from the City of Turin who will welcome thousands of fans next May. This will be the first Eurovision Song Contest to be held in Italy in 30 years and,
together with our Host broadcaster Rai, we are determined to make it a special one."
Listen to the official Eurovision Song Contest 2022 playlist here:
The Grand Final on Saturday the 14th of May, 2022 at 21:00 CEST will see 25 contestants face off, including Australian Sheldon Riley and French band Alvan & Ahez.
More about the artists:
Sheldon Riley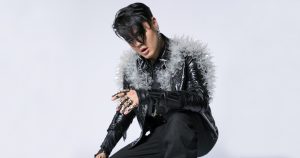 Sheldon is critically acclaimed for both the strong visuals in his performances and his captivating music.
Originally from Sydney, Sheldon considers performing, singing, writing, and playing piano as intrinsic to who he is, he regards music as the purest way of expressing his emotions and allowing himself to heal.
In February 2022, Sheldon won Eurovision – Australia Decides with his song Not The Same, he has also previously competed on The X Factor Australia, The Voice Australia and even America's Got Talent.
Speaking about his Eurovision entry, the Australian says: "It is the story I never thought I'd ever feel I'd be able to tell. Written from the memories of a child who at age 6 was diagnosed with Asperger's syndrome. Growing up in public housing, moving from home to home, unaware of my sexuality, among a deeply religious family. A path already laid that I would never be able to properly understand or interact with other people".
Alvan & Ahez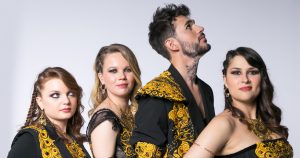 Alvan is a multi-instrumentalist electro artist from the French region of Brittany; the same place vocal group Ahez hail from.
In his music, Alvan loves to mix different genres, and despite his sound being mostly categorised as electro, he also uses a lot of traditional chants and organic elements in his compositions.
Ahez (Marine, Sterenn, and Stereen) are a traditional vocal group who aim to showcase their regional heritage through music, writing, and
singing in their native language, Breton. In their songs, they tell contemporary stories that reference the ancient myths of Brittany.
Ahez started performing at Fest-Noz festivals in 2018 and took part in the 2018 edition of the Inter-Celtic Festival of Lorient with the band Eben.
Together, Alvan & Ahez want to show that tradition is not rooted in the past but something that continues to evolve. In February 2022,
the band won Eurovision – France Decides with their song Fulenn. It is the first Eurovision entry sung in Breton since 1996!
Watch the Grand Final and vote for your favourites on SBS and SBS on Demand.
Mother's day in France and Australia
Most cultures have an official day celebrating mothers, how do Australian and French traditions differ?
In Australia, Mother's Day is celebrated on the same date as in the United States, on the second Sunday of May. The tradition is said to stem from American Anna Jarvis, in 1958 Anna organised a Mother's Day work club to improve sanitary conditions for mothers in order to reduce infant mortality rates. She intended the day to be a private acknowledgement of all that mothers do for the family and was very against its commercialisation, it is said that she even filed a lawsuit against its commercialisation! After sending white carnations to her mother she inspired the flower as the representation of the day. The celebration rose to prominence shortly after the foundation of the international Mother's Day association in 1912, aimed at promoting the celebration to the rest of the world.
Mother's Day became an official celebration in the United States and Australia in 1910, see its first mention in Australian newspapers here!
Today, Australians celebrate in many different ways. It is generally a whole family event including gift-giving and meals, brunches and lunches are particularly popular. Fundraising events for causes such as breast cancer are also frequent.
In France, Mother's Day is celebrated at the end of May or early June, the celebration is moved depending on Pentecost. The French tradition started with a political campaign to increase population growth and emphasised mothers having mothered many children. It is said that it was first celebrated in Isère in 1906 and that the ceremony included merit awards for those having mothered the most children. in 1918, the city of Lyon created a Mother's Day celebration to honour those having lost children during the war. Later, in 1943, the Vichy government released an official how-to guide to celebrating Mother's Day intituled "Le petit Guide de la fête des mères".
Mother's Day was made an official celebration in 1950, these days it is most commonly celebrated by children giving handmade gifts during class. 
Necklaces made of pasta, although less popular now, have become a symbol of Mother's Day and filial love.