In celebration of Eid al Fitr,
we share with you an article about the beautiful Grand Mosque of Paris…
Historical importance
The grand mosque of Paris was inaugurated on the 15th of July 1926 in the presence of many notable personalities including the then president of the Republic Gaston Doumergue, Marocan cheikh Moulay Youssef
and diplomats from Iran, Turkey and Afghanistan. This grand building was constructed in honour of the fallen muslim soldiers who fought valiantly for France during World War 1, particularly during the terrible Battle of Verdun.
The mosque has become, since its inauguration, the home of Islam in France. It was also the place of refuge of resistants and jewish people during World War 2, notably thanks to its underground passages.
The Mosque
Constructed between 1922 and 1926, the Mosquée de Paris is located in the lively Latin Quarter. The Hispano-Moresque building is dominated by an impressive 33-metre-high minaret.
The beautiful prayer room has intricate decorations and superb carpets. The Grand Mosque of Paris is also a peaceful place of recuperation, offering a hammam, restaurant and tearoom.
The Gardens
The Grand mosque also includes a patio surrounded by sculpted arches, reminiscent of the Alhambra Palace in Granada.
Its large entrance door is adorned with floral patterns and beautiful traditional mosaics crafted.
The Restaurant & Café
The mosque also includes a traditional restaurant "Aux Portes de l'Orient" (At the Doors of the East) which serves cuisine of the Magreb such as tagine and couscous, along with a tea room serving mint tea, loukoum and pastries.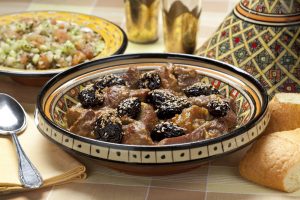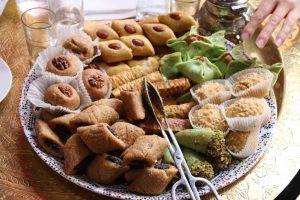 Walk through the mosque with Farooq Kapadia:
for more information, visit the official website.