Paris Hotel Guide
(Extract from The Architecture Lover's Guide to Paris, Ruby Boukabou, White Owl Books)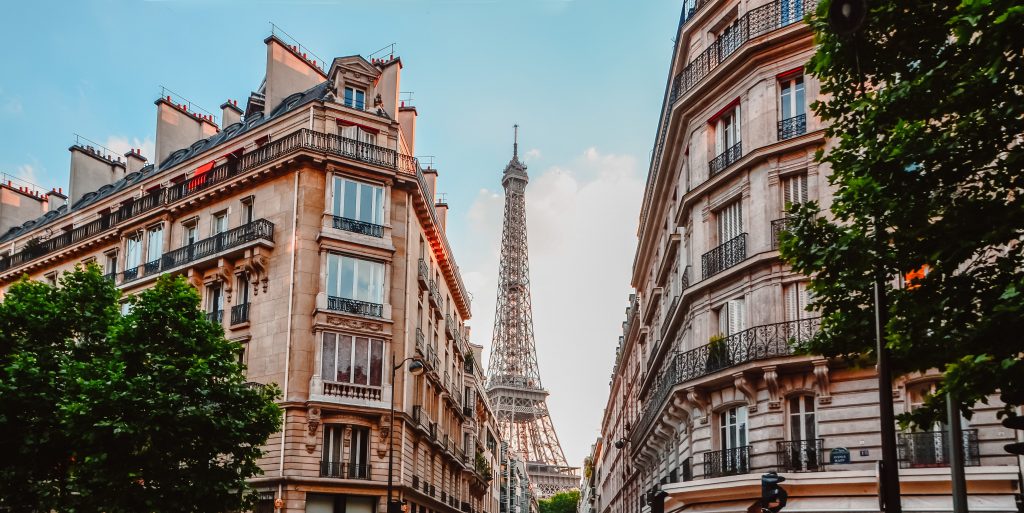 Paris' hotels range from the unique and boutique to palatial. Here is a range of architecturally interesting choices for all budgets.
(Star ratings are official, not mine)
Maison Albar Hotel Le Pont-Neuf
23-25 rue du Pont Neuf, 75001
www.maison-albar-hotels-le-pont-neuf.com 
*****
From the outside, Maison Albar has the iconic Paris touches of wrought iron on stone, softened by red geraniums in plant boxes. From the inside, the main attraction is Paris itself. Floor- to-
ceiling windows and neutral décor in the rooms allow the city to enchant you from the moment you open your eyes. The restaurant Odette features walls of dramatic, curved wood, inspired
by installation artists Christo's and Jeanne-Claude's 1985 wrapping of the Pont Neuf. The French cuisine is in the hands of sisters Caroline & Sophie Rostang, sixth generation restaurateurs no less!
Hôtel Jules & Jim
11 rue des Gravilliers, 75003
www.hoteljulesetjim.com
****
Hidden behind a sober, narrow entrance, this is a lovely little hotel designed by architect Michael Malapert and interior designer Natacha Froger. The lobby doubles as an art gallery, and the twenty three simple yet refined rooms look over the rooftops of Paris or the inner courtyard, with its magnificent plant wall, tables and fireplace. Inside the bar it's all wooden beams and floors with an intimate old Marais workshop style. 
Hôtel Vernet
25 rue Vernet, 75008
*****
Heritage and contemporary design merge in the Hôtel Vernet which was built in 1914 and renovated in 2014. The Haussmann styled façade is particularly graceful and the wood and marble interiors evoke a posh past. A glorious glass ceiling by Gustave Eiffel covers the restaurant 'V'. Interior design by François Champsaur manages to be elegant, contemporary and luxurious. The ceiling frescos are particularly fun.
Generator
9-11 place du Colonel Fabien, 75010
https://staygenerator.com/hostels/paris
On a budget? This hostel between bustling Belleville and the trendy Canal Saint-Martin offers cheap private and shared rooms. The industrial chic design references the bohemian and has fun
features such as a Métro-style bistro and bookshelf wallpaper. Its Khayma rooftop bar has views of Montmartre and there is a nightclub in the basement.
Hôtel OFF
86 quai d'Austerlitz, 75013
****
This unique floating hotel is moored on the bank of the Seine near the Gare d'Austerlitz. The zinc roof allows it to blend into the city but inside it's modern, bright and chic. Even if you are not staying here, you can enjoy cocktails by the pool in the evening or weekend brunch.
Yooma Urban Lodge
51 quai de Grenelle, 75015
www.yooma-hotels.com/en
***
A sharp contrast to the chic Hausmannian and refined boutique hotels, Yooma Urban Lodge is loud, bold, dramatic and vibrant. Aluminium and concrete were chosen as materials to merge with the surrounding 1970s architecture. The façade is an electric blue with black and white stripes. Each of the 106 rooms can sleep up to six people. You'll also find a cooking school, a gym, a sauna, a restaurant and a bar.
Terrass Hôtel
12-14 rue Joseph de Maistre, 75018
****
This delightful hotel is perched high on a street corner behind the Montmartre cemetery and close to the Moulin Rouge. The hotel was originally owned by Edmond Hurand in 1911, and apart from
a brief early period, it has remained in the family ever since. The terrace on the seventh floor, added in the 1950s, soon became a regular haunt for artists and musicians, and today is perfect for a sunset cocktail. A modern makeover focused on comfort and aesthetics with a theatre-feel (such as lights around the mirrors like in an actor's dressing room), enlarged rooms and the renovation of the Art Nouveau entrance canopy.
PALACE HOTELS
In 2010 the Minister for Tourism created the 'Distinction Palace' rating, awarded to hotels that met 200 strict criteria. These are all above and beyond 5-star standards. You know you are going to feel like royalty.
The Ritz Paris
15 Place Vendôme, 75001
The Ritz was built in 1705 as a private mansion for Louis XIV. César Ritz, who, with French chef Auguste Escoffier, invented the modern luxury hotel, renovated the palace to become the flagship of the new Ritz hotel chain, a synonym for opulence. It opened in 1898 and famous clientele has included Ernest Hemingway, Coco Chanel, Marcel Proust and Princess Diana. Some scenes
in How to Steal a Million (1966), starring Audrey Hepburn and Peter O'Toole, were shot here. It was thoroughly renovated in 2012–2016 by its new Egyptian owner Mohamed Al Fayed. One can stay in a replica of Marie Antoinette's Versailles boudoir or, for slightly less, enjoy a fancy cocktail in the Bar Hemingway.
La Réserve Paris
42 avenue Gabriel, 75008
Built in 1854 the Haussmann-style mansion became one of Paris' plushest hotels in 2015 with the expertise of Jacques Garcia. Think marble fireplaces, plush couches, antique mirrors, Corinthian columns and oak floors. Dining options are the Restaurant le Gabriel and the Asian fusion restaurant Pagode de Cos and the spa offers deluxe treatments. All the palace hotels are exquisite and always a good idea for a divine hot chocolate (bonjour, Le Bristol!) or an
escape from the hectic Paris streets (bonsoir, Le Royal Monceau!) where you can appreciate the works of top architects and interior designers. Besides La Réserve and the Ritz, there's:
Hôtel Le Maurice
228 rue de Rivoli, 75001
www.dorchestercollection.com/en/paris/le-meurice/
Mandarin Oriental
251 rue Saint-Honoré, 75001
www.mandarinoriental.com/paris
Hôtel Le Park Hyatt Paris
Vendôme
5 rue de la Paix, 75002
www.hyatt.com/en-US/hotel/france/park-hyatt-paris-vendome
Le Royal Monceau Raffles Paris
37 avenue Hoche, 75008
L'Hôtel de Crillon
10 place de la Concorde, 75008
www.rosewoodhotels.com/en/hotel-decrillon
Hôtel Le Bristol
12 rue du Faubourg Saint-Honoré, 75008
www.oetkercollection.com/fr/hotels/le-bristol-paris
Four Seasons Hotel George V
31 avenue George V, 75008
Shangri-La Hotel
10 avenue d'Iéna, 75116
www.shangri-la.com/en/paris/shangrila
Exact from The Architecture Lover's Guide to Paris (Ruby Boukabou, White Owl Books)
Available worldwide in paperback and e-book