On the occasion of Australian Science Week,
the AFRAN association and the Embassy of France in Australia are organising a free event celebrating women in science
to be held at the Powerhouse Museum on the 17th of August, from 5pm to 9.15pm.
The event will begin with a panel discussion bringing together top female scientists from Australia and France:
Prof Katherine Daniell (ANU),
Prof Natalie Hannan (Uni Melbourne),
Dr Jiawen Li (Uni Adelaide),
Dr Madge Martin (CNRS),
Dr Claudie Haigneré (CNES/ESA), the first French female astronaut
The panel will be followed by a cocktail reception and a screening of the film Marie Curie: the courage of knowledge.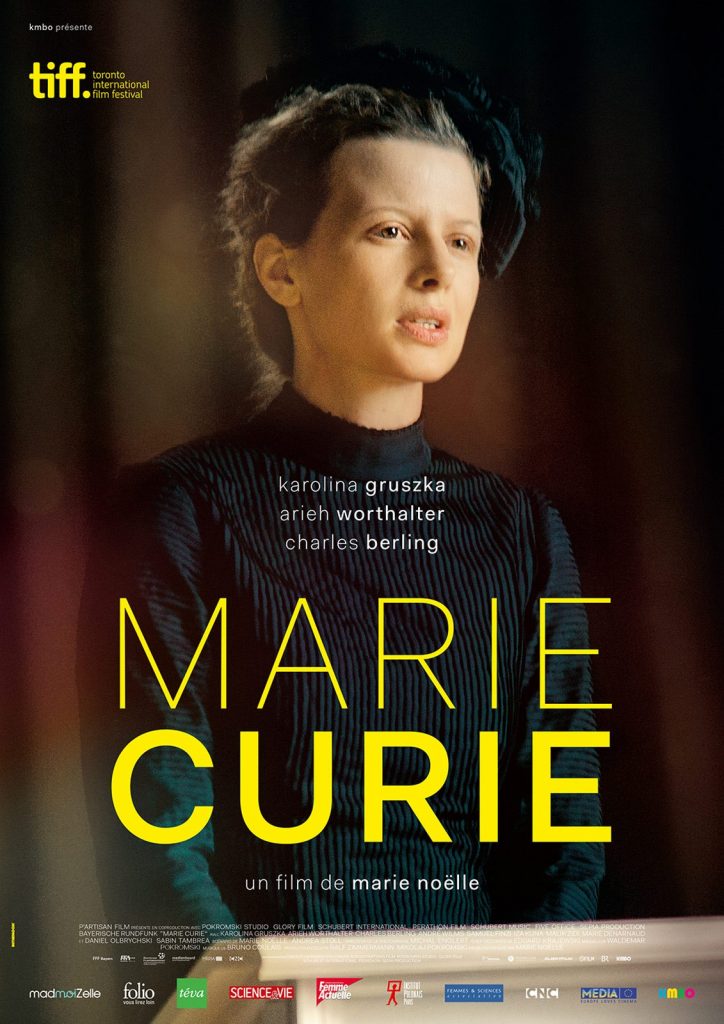 ABOUT THE FILM
SYNOPSIS
Marie Skłodowska–Curie was a physicist and chemist originally from Poland. A pioneer in the study of radioactivity, she worked side by side with her husband, Pierre Curie, in developing scientific research. Working in a particularly conservative male-dominated environment, Marie had to fight for her seat at the table.
DIRECTOR'S NOTES
Who was Marie Curie? Who was the woman behind the icon?
She was the first international « star » in science. The first female Doctor of Physics, the first female professor at the Sorbonne university, the first female Nobel Prize winner and the first woman in the world to receive the prize twice in two separate disciplines, she was even the first woman to post-humorously enter [1]Le Panthéon. Despite these achievements, Marie had to fight against prejudice in order to live freely.
As a child, I also dreamed of devoting myself to science and Marie Curie was my role model.
I admired her strength, intelligence, untamed nature and how she stood by her convictions.
I suddenly realised how little I knew about her life when I happened to come across an article about her relationship with the physician Paul Langevin, who almost prevented her from receiving her second Nobel prize. I searched for the woman that Marie Curie was and after what I found I quickly developed a desire to tell the tale of the remarkable woman that I found and her fight for the recognition of her work. Her battle to pursue her passion for science is a fight that led her to renounce a part of her womanhood.
When Pierre curie dies, Marie finds herself demoted and seen only as the widow of the departed genius Pierre Curie. She must confront institutions head-on to obtain the very means to continue her work, continue her career and raise her two daughters alone. In 1910, even though Marie is a widow, the French press turns her liaison with Paul Langevin, a scientist of renown close to that of Albert Einstein, into a huge scandal, branding her as a simple adulterous woman instead of the brilliant scholar that she is. The hatred expressed in the press is astonishing. The fact that the affair goes public is simply due to Marie Curie's womanhood and as she is more easily attacked from a moral standpoint than from the perspective of scientific legitimacy.
The film explores the six most eventful years of Marie's life, between 1905 and 1911 and paints a never-before-seen portrait of this historic character's intimate life. Despite her professional successes, Marie always kept her feet on the ground and bravely took charge of her responsibilities as a woman and as a mother. Albert Einstein said for her: « Marie Curie is the only known scientist that fame did not corrupt. »
MARIE CURIE, AN IMPORTANT ROLE MODEL FOR WOMEN
At the end of the 19th century when Marie Curie discovered radium and its radiance which she named « radioactivity », she was not regarded in the male-dominated scientific world. At that time,
it was impossible to be a woman and demonstrate intellectual abilities.
Marie Curie's discoveries came with large sacrifices, both physical and material. Her research was tolerated as long as it took place alongside her husband, upon becoming a widow she had to learn that reason and passion were incompatible.
Marie Curie's story corresponds to what all women with a career in traditionally male-dominated areas experience.
Latest studies have shown that women are still underrepresented in science. The percentage of women working in the area of science is currently at 29% and that number is much lower in research professions. Johanna Wanka, minister for education in Germany declared, " We are in desperate need of highly qualified women in Science. » This is why figures such as Marie Curie are important, they can act as role models for all young girls and motivate them to take this path. It is important to show young girls that women can have a career in science and research. Marie Curie is in many ways an important figure for the women of tomorrow, her strength and humanity are an inspiration for all.
THE FILM
I used original documents to write the script: Marie Curie's journals, her laboratory notebooks, her letters and those of her loved ones, the press of the time, etc. The Curie Museum and the members of the Science Academy of France generously offered me their support, allowing me to replicate the scientific aspect. I also had the chance to meet Hélène Joliot-Langevin, Marie Curie's granddaughter, and collect some of her memories. In addition, by happy coincidence, a collector provided me with the tools of the time which I used to rebuild the Curie laboratory, the place where Marie lived her passion.
The casting of Charles Berling as Pierre Curie was clear from the start, on the other hand, it took months of searching in three different countries to find the actress who would interpret the role of Marie Curie. The excellent Karolina Gruzka, who plays the role with strength and tenderness. Gruzka is joined by a great cast including Malik Zidi, André Wilms and Daniel Olbryski.
With Michael Englert, director of photography, we established a light concept inspired by Pierre and Marie Curie's fascination with the radiance of radium. We played with reflections, shadows and flashes of light using mirrors and polished glass. The research world is often seen as being austere and boring, we wanted to show the beauty of it and even its sensuality, which goes hand in hand with the passion of the scientists.
The numerous photos of Marie Curie showed that she didn't try to look prettier or more appealing, she was always herself free of any false modesty.
We wanted to depict her like an unknown landscape: the camera captured the reflection of her eyes, the quivering of her lips, the precision in the movement of her hands, her unruly hair, and the austerity yet also gracefulness of her movements.
The shooting of the film was constructed based on drawings, mood boards, and numerous repetitions. The fluid movements of the camera follow Marie's curious gaze which perceived a vast array of phenomena.
When I read through Marie Curie's journals kept at the National Library, I was very impressed by her beautiful handwriting and strong style of French. I was also moved by the poetry she was capable of.
MARIE CURIE: the courage of knowledge is a historic, film yet I also wanted it to be ageless; the makeup and costumes are minimal. Marie Curie was a modern woman who very quickly abandoned corsets that women of the time used. She didn't have many clothes and didn't understand why other women could spend hours trying to make themselves "prettier". She was very reluctant about her daughters wearing makeup.
[1] Le Panthéon is a prestigious mausoleum in Paris where noteworthy French personalities are buried, including the likes of Voltaire and Victor Hugo.
To access the French version click here: Marie Curie dossier de presse francais