Annie's Fire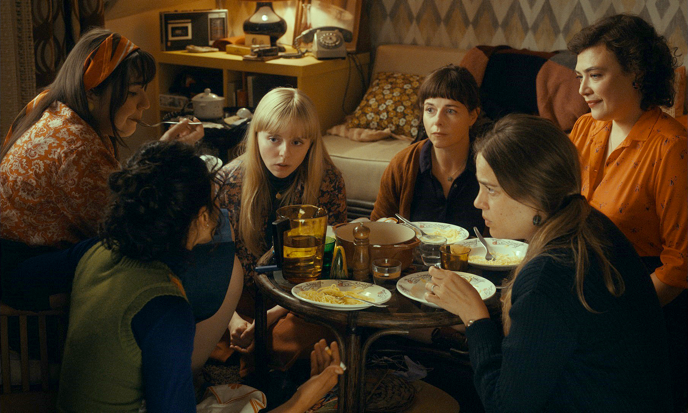 The Spirit of Feminist Solidarity
Today is International Women's Day (the 8th of March), a day serving as a focal point in the women's rights movement, bringing attention to issues such as gender equality, reproductive rights, violence, and abuse against women. Even though the earliest reported Women's Day observance was in 1909, 2023 still holds its share of issues and causes worth fighting for. Among the selection of the 34th edition of the Alliance Française French Film Festival lies a particularly moving testimony: Annie's Fire directed by Blandine Lenoir featuring recent César winner Laure Calamy. This heart-rending story is one of women and feminism, making the 8th of March seem like the perfect opportunity to focus on Lenoir's rousing abortion drama and the struggles it depicts.
In February 1974, Annie (Laure Calamy), a working-class mother of two, accidentally falls pregnant with an unwanted third child she knows her family could not afford. Introduced to a group of local women and doctors who offer judgement-free support and family planning, she is surprised by their camaraderie and conviction. Through them, Annie eventually finds her mind opened to feminism and self-empowerment. This film – inspired by true events – tells the story of networks, such as the Movement for Liberty of Abortion and Contraception (MLAC), who defiantly refused to hide from public view and fought for women's rights to safe abortions and reproductive rights, even though their efforts are considered illegal.
The film features various complicated characters as there is no one-size-fits-all story: having a right to choose is the common factor linking those disparate lives. In 1975, a year after the events depicted, the Veil Act decriminalising voluntary termination of pregnancies in France, prepared by the incredible Simone Veil, was promulgated. However, with lawmakers and activists restaging this battle half a century later, history appears to be repeating itself with the major step back for women's reproductive rights that the overturning of Roe vs. Wade (USA) represents. This story of women banding together to assert their bodily autonomy in an age of sexual revolution feels all too timely; not merely a compelling reminder of how things were, but a warning of how they could yet be.
If you would like to learn more about this incredibly touching story and about french women's battles for women's rights do not miss the opportunity to discover this film in your city during the Alliance Française French Film Festival: https://www.affrenchfilmfestival.org/film/annie-s-fire.
Watch the trailer: